QUESTIONS
P.O. Box 631 Station A
Toronto, ON, M1K 5E9
Networking Made Simple
Networking Made Simple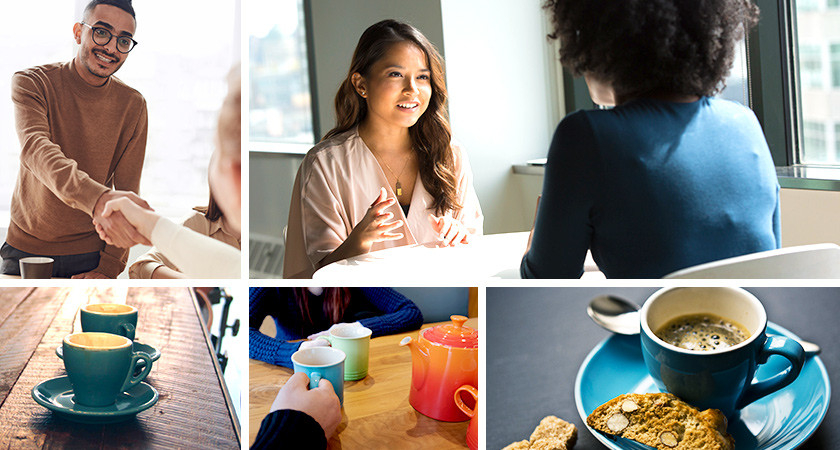 Join the Centennial Hub on Ten Thousand Coffees to connect with people in your field.
It's no secret that networking matters. In fact, up to 85% of jobs are filled through networking, yet students and recent grads experience challenges with developing professional relationships.
That's why we've partnered with Ten Thousand Coffees to connect students and recent grads with industry professionals, including alumni and employers!
How does it work?
There is no minimum time commitment for this!
If you're not interested in receiving a monthly match, simply turn your introductions off and use the Member Directory on the Centennial Hub to do a search for someone relevant to you. The choice is yours!
Why you should join:
Student or Recent Grad?
Build your network of industry professionals
Gain a better understanding of what careers are available in your field
Develop your confidence in your networking and communications skills
Receive an official LinkedIn networking certificate
Alumni or Industry Professional?
It's a great way to give back to others
You can help someone develop their networking skills and discover careers relevant to their education
Help shape the careers of students and recent grads by sharing your career advice and experience
Receive an official LinkedIn networking certificate
Your conversation could make a lifelong impact on someone
Important Note: Once you sign up, you will receive an email from Ten Thousand Coffees asking you to verify your email address. This is an important step to ensure your account is activated.
Once you join, all introductions are sent directly to your inbox so you don't need to use another tool!
Here's what other students across Canada have said about using Ten Thousand Coffees:
"My name is Geina Khadaroo, 3rd year Business Administration - Accounting student who had the privilege of chatting with Co-owner & Bookkeeper of Konecny Consulting Inc. Darlene Llewellyn-Konecny. This connection brought value to me as an accounting student because of the experiences and skills Darlene brought to the conversation. It was a natural progression so meaningful that our conversation moved from emails to virtual zoom meetings.
Darlene is very professional and pleasant to talk with and I still remember when she said "Geina you have to get your foot in the door." The wisdom of an experienced bookkeeper and entrepreneur who knew exactly what she was saying to me and these words help me to contextualize where I am as a student and where I am going professionally.
This career chat is specifically memorable to me because I found a mentor who is willing to guide me through my final year of college not only with advice but in a practical way; giving me the opportunity to learn new accounting software through her company. I strongly recommend Centennial Hub on Ten Thousand Coffees to all students and grads to network and connect with alumni and industry professionals."
- Geina Khadaroo, Business Administration – Accounting Student
"Last month I got connected with an alumni from my field on Ten Thousand Coffees and decided I would reach out to him, so we could chat. I was super anxious, nervous, optimistic along with other emotions as I was not sure of what may come of the conversation. I prepared a few questions to ask him. To my amazement the chat went well, he was able to relate what I was currently experiencing and he encouraged me to keep applying for job openings and stay positive. One advice that he gave me that resonated with me was 'to be open minded to other opportunities outside of my desired field.' That small conversation changed the way I viewed the job application process. Keep applying and stay positive."
– Shaneka Boyd, Biotechnology Grad (2020)
Quick Links to Blog Posts and Videos:
RBC Future Launch is RBC's commitment to empower Canadian youth for the jobs of tomorrow. RBC is dedicating $500 million to help young people access meaningful employment through practical work experience, skills development, networking and access to mental well-being supports and services.
The Centennial Hub on Ten Thousand Coffees is a partnership between Career Services & Co-operative Education and the Office of Development & Alumni Engagement.