QUESTIONS
P.O. Box 631 Station A
Toronto, ON, M1K 5E9
Annual Golf Tournament
Annual Golf Tournament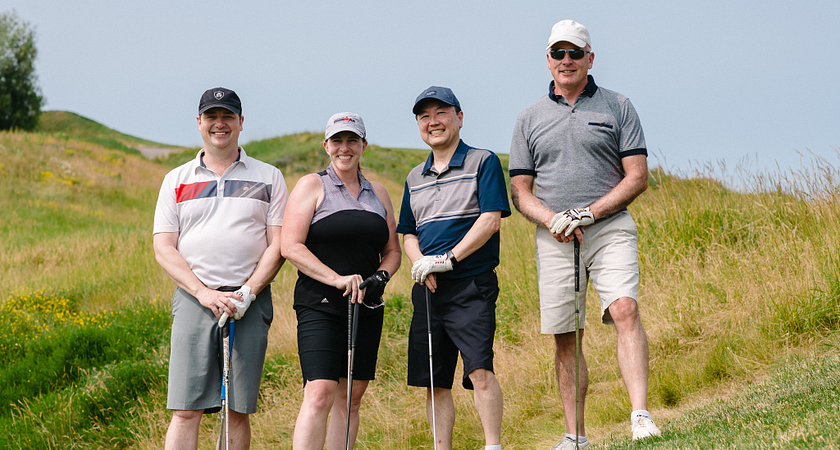 CIBC Commercial Banking Foursome at the Centennial College Annual Golf Tournament 2019
Centennial's 2019 Annual Golf Tournament raises over $125,000 in support of student scholarships
Centennial College's Annual Golf Tournament took place on Monday, July 8, at the picturesque Eagle's Nest Golf Club in Maple, just north of Toronto. Our 152 guest golfers, along with Centennial staff and student volunteers, enjoyed a sun-filled day on the links for a very good cause.
The Impact Continues to Grow
Thanks to the generosity of our many corporate and individual sponsors, this year's tournament raised over $125,000 in support of Centennial's Golf Endowment Scholarship Fund. These funds are matched by the College, so the total contribution is over $250,000!
We are thrilled to share that in the 2019-20 academic year, we will be offering 50 scholarships valued at $100,000 - a 25% increase over last year!
Our loyal supporters understand that scholarships create life-changing opportunities for students wishing to pursue post-secondary education. On a practical level, they remove financial barriers, but on an emotional level, they send an empowering message of encouragement, which is perhaps the biggest impact of all.
About Eagles Nest
Voted the #1 public golf course in the Greater Toronto Area since 2008, Eagles Nest is an exquisite balance of nature and design. The spectacular layout, crafted by Canada's premier golf course architect Doug Carrick, offers a truly unique links-style golf experience.
A Special Thank You to Our Generous Sponsors
PGA Package
BDO Canada LLP
guard.me International
Johnson Inc.
Knightstone Capital Management
Panson Electrical Services
Open Package
Centennial College Student Association
Colliers Project Leaders
EllisDon Corporation
Morel Group / We Speak Student
Precise ParkLink
RDHA
TBM Service Group Inc.
Urban Strategies Inc.
Players Package
Avaya Canada
BDA Inc.
C & W Services
Centennial College Alumni Association
CIBC Commercial Banking
MJMA
Paladin Security
SCI Interiors
Diamond Schmitt Architects
Classics Package
Air Canada
Aramark
Arken Contracting
Bergen & Associates
Canadian Campus Communities
CIBC Wood Gundy
Hicks Morley
HPE Aruba
Pomerleau
TeraMach Technologies
Tri-Tech Electrical
Hole Sponsors
Ann Buller
Centennial College Alumni Association
Gillam Group Inc.
GOW Hastings Architects
MPS
ROSSCLAIR Contractors Inc.