QUESTIONS
P.O. Box 631 Station A
Toronto, ON, M1K 5E9
Thriving at Centennial
Thriving at Centennial
Thrive is a campus-wide initiative designed to promote positive mental health and well-being for all members of our Centennial community. Fall 2019 Thrive Week is from October 28 - November 1. Through a week-long series of events, students, faculty and staff are encouraged to engage in activities that relate to the seven dimensions of wellness outlined in the College's Mental Health and Wellness Framework: mental, social, intellectual, spiritual, emotional, physical and occupational.
Thrive is also a mindset
Thrive Week is intended to foster resilience and encourage conversations about mental health, healthy living, community engagement, social support, diversity, and inclusion.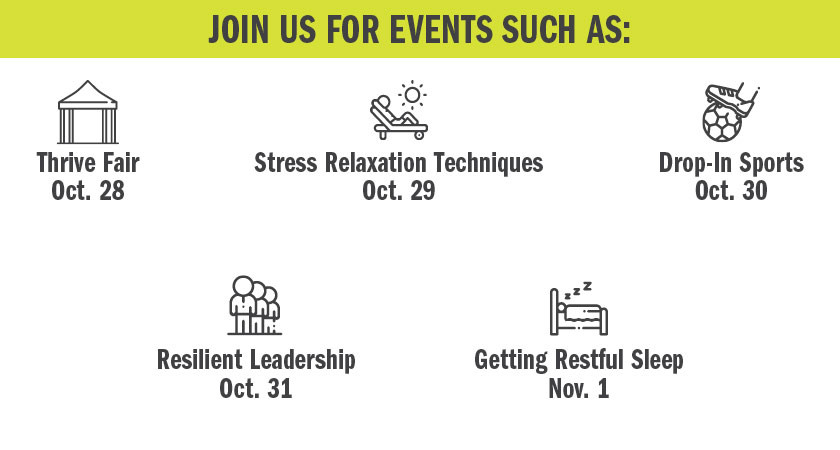 Thrive was developed by the University of British Columbia in 2009. It has now become a nation-wide initiative with over 12 participating universities and colleges across Canada.
Please review the Thrive Planning Toolkit to better prepare for your Thrive Event.
Positive Mental Health
According to the CAMH Health Promotion Resource Centre, mental health is more than the absence of mental illness: it is a positive sense of well-being, or the capacity to enjoy life, cope with life's stresses and reach our goals. The Public Health Agency of Canada defines positive mental health as "the capacity of each and all of us to feel, think, act in ways that enhance our ability to enjoy life and deal with the challenges we face. It is a positive sense of emotional and spiritual well-being that respects the importance of culture, equity, social justice, interconnections and personal dignity"