34th Holocaust Education Week 2014 Event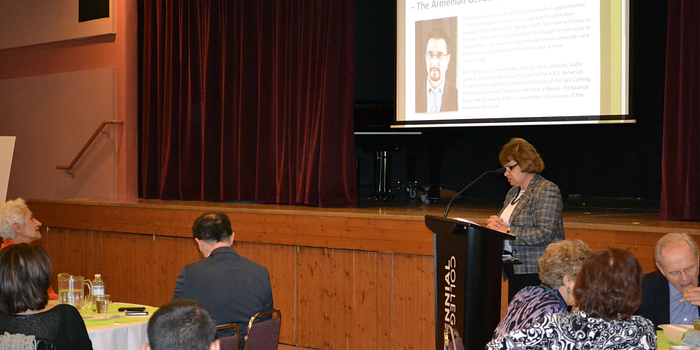 Irena Sendler – The Courage to Care
Tuesday, November 4, 2014
1:30 pm - 3:30 pm*
Holy Trinity Armenian Church,
Magaros Artinian Hall
920 Progress Avenue, Toronto
*Light refreshments served from
1 pm - 1:30 pm
Please join us for the following documentary film and discussion:
Irena Sendler: In the Name of their Mothers, tells the story of Irena Sendler, one of a group of young Polish women who defied the Nazis to rescue Jewish children from the Warsaw Ghetto. She saw the suffering of Warsaw's Jews, reached out to her most trusted colleagues, and together, in the face of enormous danger and personal risk, they rescued over 2500 Jewish children from certain death.
Following the screening of the film, Eli Rubenstein, Director of
the March of the Living (Canada) and Founder & Director of March of
Remembrance and Hope Canada, will discuss the role of Irena Sendler
and provide insight into the stories of people who defied the tide of Nazi
destruction by risking their lives to save others.
Selected materials from Centennial Library's John & Molly Pollock
Holocaust Collection will be on display.
Hosted by: Centennial College Libraries in partnership with Centre for Organizational
Learning & Teaching and School of Advancement
For more information, contact Gosha Trzaski at 416-289-5000, ext. 5418.
Generously co-sponsored by Norman Glowinsky & Lillian Vine Glowinsky in memory
of their beloved parents, Holocaust survivors Helen & Stan Vine and Rose & Jonas
Glowinsky; and by Guido Smit in honour of Jan Smit, Righteous Among the Nations,
member of the Westerweel Group, active in Holland, Belgium and France.
Parking is complimentary.