35th Holocaust Education Week 2015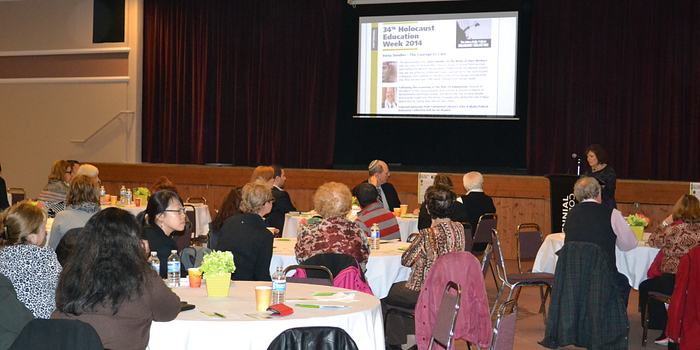 The Centennial College Libraries in collaboration with the School of Advancement and the Centre for Global Citizenship Education and Inclusion, as part of the Neuberger Holocaust Education Week 2015, will be hosting an event for the Centennial community to learn about Holocaust survivors.
Surviving Survival: Holocaust survivors and their integration into Canadian communities
Dr. Paula Draper, historian and specialist in memory history, will illustrate what it was like for men, women, and children who survived the Holocaust to rebuild their lives in Canada after the Second World War.
Voices of Liberation – Like Angels Out of Nowhere will be screened. Directed by Canadian filmmaker Matthew Shoychet, the video features the liberation stories of ten Canadian Holocaust survivors who were liberated by American, Canadian, and Russian troops toward the end of World War II.
Participating students will receive credit towards the Leadership Education category of the Leadership Passport.
For more information, contact Gosha Trzaski at 416-289-5000, ext. 5418.
When and Where
Thursday, November 5, 2015 Program begins at 1:30 PM.
Refreshments served from 1:00 - 1:30 PM
Holy Trinity Armenian Church, Magaros Artinian Hall
920 Progress Avenue,
Toronto
Parking is complimentary.
Directions
Holy Trinity Armenian Church, Magaros Artinian Hall
From Highway 401 take the Markham Rd. exit. Turn south on Markham Rd. Turn left onto Progress Ave., then take the first left into the church parking lot.