Board of Governors Student Member Elections - Call for Nominations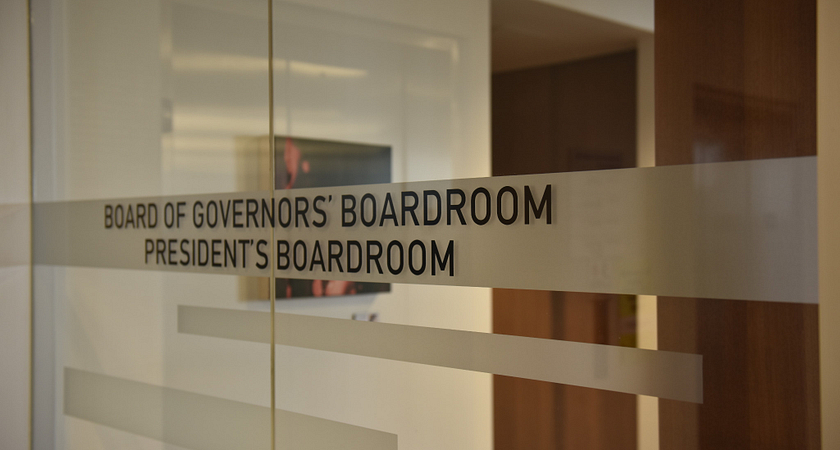 The Centennial College Board of Governors is seeking student candidates for a two-year term (September 1, 2020 - August 31, 2022). Elections will be held March 4 - 5
Nominations Open: January 27 at 9:00 a.m.
Nominations Close: February 10 at 12 noon.
You are eligible to stand for election if you are:
A fee-paying, full- or part-time student who has completed the first semester and who is enrolled in a program of study at Centennial when the two-year Board term begins;
In good academic standing with a 3.0 (or higher) GPA in your last term;
Up-to-date with all financial obligations to Centennial College; and,
A team-player who is willing to share your strong interpersonal, communications and organizational skills to support informed, collective decision-making that further the College.
Assets to your candidacy:
Familiarity with budgets and a strong knowledge of College operations; and,
Leadership experience or training such as the College Leadership Passport or LeaderShape Program.
About the Board
The Board defines the role and mission of the College and sets the strategic directions for the College. The Board is responsible for fiduciary oversight and institutional performance. It consists of 19 members: the President, 4 elected governors – academic, administrative, support staff and student – as well as 14 appointed governors. The Board is responsible, subject to the authority of the Minister of Training Colleges and Universities, for the direction of educational policy and for oversight of administration of College operations.
Time Commitment
The Board meets bi-monthly during the academic year in October, December, February, April and June. Board meetings are approximately three hours in length and usually are held during regular business hours. In addition to Board meetings, each governor also is required to participate on one of the Board's three standing committees: Audit and Risk Management (finance), Learning and Engagement (academic programs) and Policy and Procedures (policy). Board committees meet on the alternate months of the full Board meetings for approximately three hours each.
Student Governor Role
Once elected, this student governor will fill a vacancy for the two-year term which began September 1, 2020 and which will end on August 31, 2022. Governors are required to attend each Board meeting and to come prepared to discuss the agenda items by carefully reviewing materials prior to each meeting. Student governors collaborate, learn and network with the other Board members on issues that impact the College. They also are invited to represent the Board of Governors at conferences, events and ceremonies.
Getting Started
There are a few steps needed to launch your campaign.
Starting at 9:00 a.m. on Monday, January 27, request or pick up a nomination packet from:

Alice Schuda
Board of Governors Communications and Administrative Officer Progress Campus, L4-12
aschuda@centennialcollege.ca
416-289-5000, ext. 5290

Read the packet thoroughly and complete the nomination form carefully. Incomplete nomination forms will not be reviewed.
Submit your nomination form according to packet instructions for review and approval by noon on Monday, February 10.
Once your nomination is reviewed and approved, you will be invited to complete a short but mandatory candidate's orientation on February 13. Time TBC.
Campaigning can begin following completion of the mandatory candidate orientation on February 13 and must close by noon on Tuesday, March 4.
Campaign Rules
All candidates must abide by the rules outlined in the Student Governor's Nomination Packet and by applicable CCSAI election policies. Any candidate who is found in violation of either the CCSAI guidelines or nomination rules may be subject to disqualification.
All candidates are required to submit the following items by email to the Board Communications and Administrative Officer.
200-word bio with:

Summary of qualifications;
Involvement in Centennial activities and community;
Experience and skills you would bring to the board.

High quality profile photo (300x900) jpeg file
In addition to the required profile and photo, candidates can create unique posters or other campaign materials following Board Bylaw 2014-1, Section 5, Canvassing and CCSAI Elections Policy, Guideline #4: Campaigning Procedures and Regulations.
All campaign materials must be reviewed and approved by the Board of Governors' Communications and Administrative Officer prior to being posted according to Centennial College Posting Policy (#FS100-02).
Request a Nomination Packet
Serving as a governor can be a rich and rewarding learning and personal growth experience for the successful candidate. For more information and to obtain a nomination packet, please contact:
Alice Schuda (aschuda@centennialcollege.ca)
416-289-5000, ext. 5290
Communications and Administrative Officer
Board of Governors
Centennial College
We look forward to your participation in the student governor election process!