Celebrate #GivingTuesday with a full day of campus events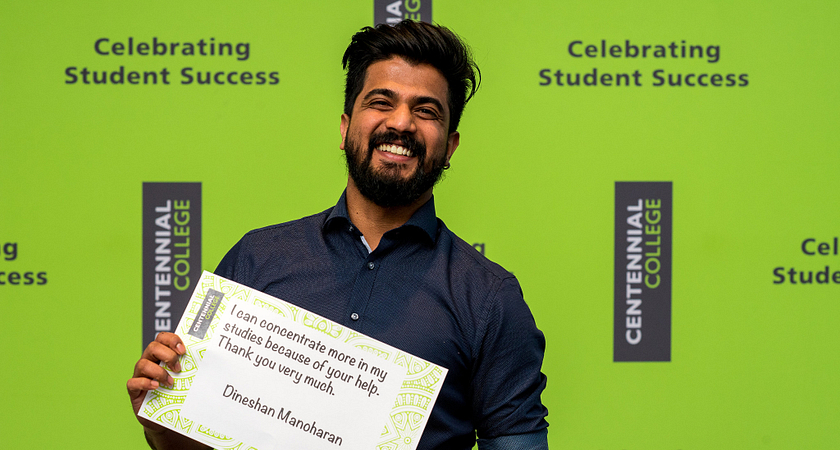 GivingTuesday is a global movement that encourages and celebrates giving and volunteering. It harnesses the generosity of people around the world to bring about real change in their local communities. This year, GivingTuesday takes place on November 27.
This year marks the first time that Centennial College is celebrating GivingTuesday and our mission is twofold: (1) to help establish a culture of philanthropy within the College, and (2) make an impact on the lives of 10 Centennial students by raising $10,000 for the Community Outreach & Access Scholarship.
The Community Outreach and Access Scholarship recognizes students who would have difficulty finding a path to post-secondary education, and persisting on that path, without support. These scholarships are made available to people who have changed the course of their lives by pursuing post-secondary education and achieving high levels of academic success.
Centennial's GivingTuesday fundraising efforts began through our digital campaign on Tuesday, November 6, and we are currently at 50% of our $10,000 goal.
There are numerous GivingTuesday activities taking place on Centennial's Progress Campus on Nov. 27, including:
Free Breakfast
The Centennial College Student Association (CCSAI) will be providing free breakfast to students in the CCSAI lounge beginning at 9 am.
"Timmies Tuesday"
In the spirit of GivingTuesday, the CCSAI wants to brighten the day of our students by buying them a coffee. CCSAI representatives will be passing out Tim Horton's gift cards to at random beginning at 10 am.
Cookiegrams
The Office of Development and Alumni Engagement (ODAE) team will be selling "cookiegrams." These delicious treats will be made with love by our Baking and Pastry Arts students. Staff and students are encouraged to give their cookiegram as a gesture of thanks to someone special at the College. All proceeds will go towards student scholarships, and if all 500 cookiegrams are sold they will fund one $1,000 scholarship!
First Impressions
CCSAI's First Impressions store will be open to students all day. First Impressions is a service that provides students with access to professional clothes for job interviews and workplaces. Students will be able to select up to three free items of gently used formal business wear.
Thank Our Donors
Staff and students will have the opportunity to sign thank you cards for Centennial College donors. These cards, which will show our donors just how much we appreciate their support, will be delivered after GivingTuesday.
Take a Note/Leave a Note
The CCSAI will be inviting students to drop into the CCSAI lounge and take a positive note written by a fellow Centennial community member. Students can then pay it forward by leaving a note of encouragement for another member of the Centennial community.
VIP Movie Night
Our Centennial College Alumni Association will be hosting a movie night at Cineplex Don Mills VIP Cinema to celebrate GivingTuesday. All proceeds raised that evening will help fund the Community Outreach & Access Scholarship.
To learn more about the Centennial College GivingTuesday campaign, please visit www.centennialcollege.ca/givingtuesday.