Centennial Launches Microsoft Office 365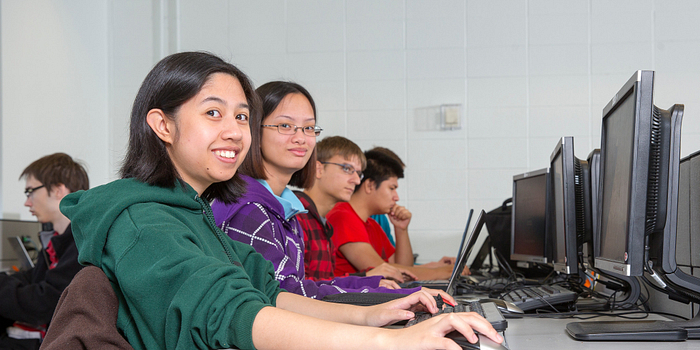 myCentennial Email will be unavailable from Friday, September 4 to Sunday, September 6
myCentennial Email will be unavailable from Friday September 4 at 11 PM until Sunday September 6 at 11 PM while the College transitions to Office 365. During this time, all email will continue to be received and will appear in the new Office 365 system Sunday evening after 11 PM.
We hope that you enjoy using Microsoft Office 365 services and features.
Centennial Launches Microsoft Office 365
Centennial's Information Technology Services (ITS) team is committed to providing you with the best possible experience when you use our technology. On September 6, the College is launching Microsoft Office 365 services for all staff and students who have a @my.centennialcollege.ca email account to provide new services such as:
Exchange and Outlook email system: ITS will migrate all @my.centennialcollege.ca email from its current my.centennialcollege.ca portal-hosted system to the Microsoft-hosted Office 365 platform.
Skype for business for online collaboration
One-drive cloud storage, with 1 terabyte of storage space per account
Microsoft Office online
Important
All Office 365 services with the exception of email are available to current staff and currently enrolled students after which access to these services and any data stored will cease. Please ensure you transfer any data you wish to keep or access prior.
How to access the new service
To start using these new services, please login through the myCentennial portal and click the icon to login to the Office 365 site. You will need your myCentennial email address to log in to Office 365. Your my.centennialcollege.ca email address will be displayed once you login to myCentennial along with the link to Office 365. Your password for your initial login is your date of birth in the format of MMMDDYYYY (case sensitive).
Password Examples
Sep011980 for September 1, 1980
Jun121984 for June 12, 1984
Dec091990 for December 9, 1990
You will have to change your temporary password to a minimum of 8 and maximum of 16 characters and combine at least three of the following: uppercase letters, lowercase letters, numbers, and symbols. Note: Your Office 365 login ID and password is separate from your myCentennial ID and password.
Before you can begin using Office 365, you must comply with the request to set up a multi-authentication process to assist with password resets. You will also have the option to setup a mobile phone number for text and/or alternate email to request password resets.
Please note, if are unable to reset your Office 365 password through the multi-authentication process, you can call the Helpdesk 416-289-5280 or visit any IT front counter on campus. You will be requested to prove your identity before your password is reset.
Also note that if you currently have your myCentennial email forwarded to another email address, you will need to sign into Office 365 to re-establish that forwarding rule.
An Important Note About Cloud Storage with Office 365
Office 365 services is a cloud based service that is hosted by Microsoft. Centennial College ITS does not have the ability to restore any data or content stored on Office 365 services. Microsoft provides the option to keep deleted emails and one-drive documents in the recycle bin for 30 days. After the 30 days, data and content will be permanently deleted and cannot be restored. As the storage capacity for email and one-drive is ample, we advise that you avoid deleting documents unless necessary.
Training and Support
If you are new to Office 365, you may want to take advantage of the online training and support available. Below, you will find links to Office 365 web-based tutorials that can help you navigate the new services. If you need on-site support to configure outlook client, your mobile device or reset your password, please visit the IT front counter at your campus.
How to setup email on your phone
To setup your mobile device to receive and send emails from your @my.centennialcollege.ca account, please refer to instructions below: