Centennial rolls out new Lexmark Printing for Students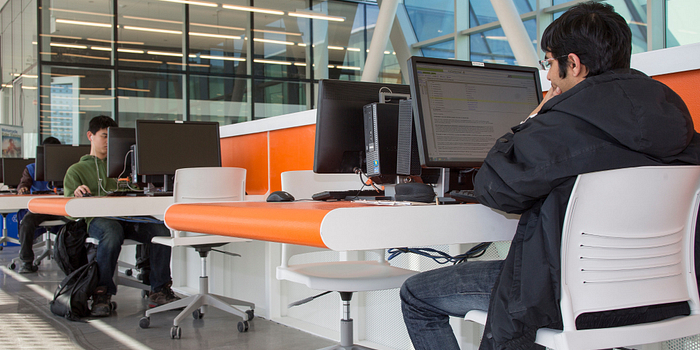 Centennial College is enhancing the student experience by implementing a new print system on all campuses. In the coming weeks, the Xerox printers on your campus will be replaced with new Lexmark devices. Some of the locations of the new printers will be changing to better serve you in a more efficient manner. Most computer labs will still have printers, and we are adding some hallway and open-area printing capacity for your convenience. Colour printers will also be placed strategically throughout the college for your use.
New Printing Fees
| Setting | Charge Per Impression |
| --- | --- |
| Single black & white | 6 cents (printed one side per page) |
| Duplex black & white | 5 cents (printed double-sided) |
| Single colour | 20 cents (printed one side per page) |
| Duplex colour | 19 cents (printed double-sided) |
Print credits or a positive account balance will still be required to be able to print. Credits can be purchased the same way as they are now. The Library will still have coin-operated photocopiers available for those who prefer to pay cash.
Two ways to retrieve your printouts:
Students can use their Centennial student photo ID card to "swipe" and release their printouts. This will allow students to print securely and release their printout when they are at the device, rather than letting the printouts pile up. Your print job follows you to any Lexmark printer on any campus, ready to print when you swipe with your photo ID card. If your student ID card doesn't work with the card reader, a sticker will need to be obtained from the IT Department. This new feature will be available in January, 2015.
Students also have the option of authenticating to release print jobs on Lexmark devices. Using their network ID and password (the same as used to access College computers) students can login and release their printouts.
Coming in January: Global Print Queue
Our new Lexmark devices introduce the ability to print to a single global print queue. This feature allows students to select Print from any College computer and release it from any Lexmark device located at any campus (no need to specify a printer). Printouts are available to be released for up to three hours after being sent to the Centennial Global queue. After three hours, the print job will be deleted from the queue automatically, and the student will not incur any charges.
Locations to pick up the ID Card Stickers (If your student card does not work). Available in January:
Progress: IT Front Counter, Room B-3-15
Ashtonbee: IT Front Counter, Room B-148
Morningside: IT Front Counter, Room 328
Story Arts Centre: IT Front Counter, Room 155