Child Care tots treated to pop-up pumpkin patch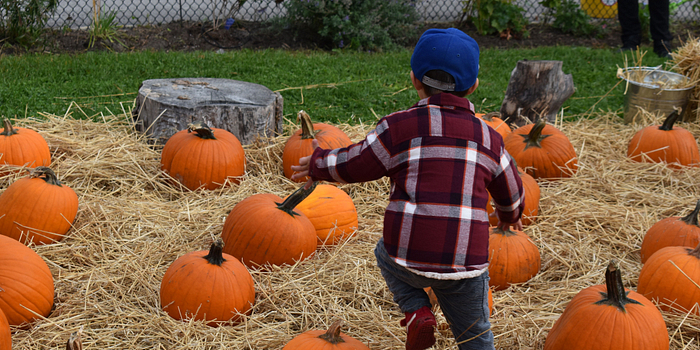 Youngsters at Centennial's Progress Campus Child Care Centre got a special surprise on Monday morning, October 23, when they arrived to see a pumpkin patch had mysteriously appeared in their playground. The tots couldn't wait for their morning outdoor playtime to run into the patch and find their favourite pumpkin among all the gourds placed in hay by volunteers over the weekend.
The festive autumn surprise was the brainchild of Janet Burchert, Manager of the Progress Child Care Centre. The children had been scheduled to take a field trip to a pumpkin farm, but the bus trip got cancelled over concerns about crossing the picket line set up by striking faculty. Janet decided to bring the farm to the kids, by dispatching her family members to buy a whole bunch of pumpkins over the weekend and setting up the patch on Sunday afternoon. The pop-up patch was a huge hit with the youngsters, who excitedly ran around the gourds looking for just the right one.
"It was a big surprise for everyone: the children, their parents, even our own staff who had no clue I was working on this over the weekend," says Janet. "The kids can play in the patch all week, and then on Friday they'll be invited with their parents to pick one to take home." Her one worry is that the pumpkins have been eyed jealously by the neighbourhood raccoons. "I saw a raccoon early this morning studying the patch pretty intently," Janet laughs.