Helping Children of Incarcerated Parents event, Dec. 1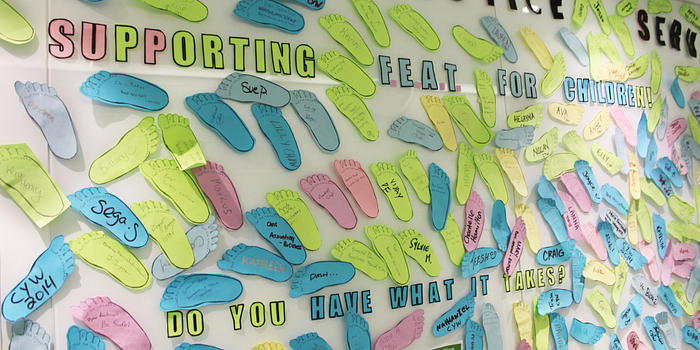 Students of Centennial's Community and Justice Services program are supporting a unique organization called FEAT for Children of Incarcerated Parents by fundraising and promoting awareness of this vital community resource. FEAT (fostering, empowering, advocating together) was established three years ago to address the needs of the more than 15,000 children in the Greater Toronto Area that have a parent in the criminal justice system. The multifaceted impact of parental incarceration on children can be devastating. Kids are often left to cope with family instability, low income, poor academic performance, societal stigmatization, as well as compromised self-esteem, trust and sense of security in their familial relationships.
Through "Loonie Mondays" and other fundraising strategies, our students have already raised $3,500 for FEAT. Their initiative is called "It Takes a Village" and the students have challenged those in other programs in our Child Studies and Community Services department to collect small donations, too. They have received an overwhelming response from the community in terms of support and donations, and the initiative is receiving good exposure through social media. Included in the fundraising initiative is the creation of an online donation site that provides tax receipts.
The students' work will culminate in a special presentation on Monday, December 1 at 1:30 pm in the Progress Campus Student Centre. President Ann Buller will be on hand, along with guest Toronto Councillor Ron Moeser, to say a few words of gratitude and to acknowledge our students' efforts in reaching out to an often forgotten group of children that are largely invisible in our community. Our Community and Justice Services students are immensely proud of their work and contributions, which are illustrative of the college's stated mission of transforming lives and communities. We hope you can join us for this special presentation.