Join the Ashtonbee Community Choir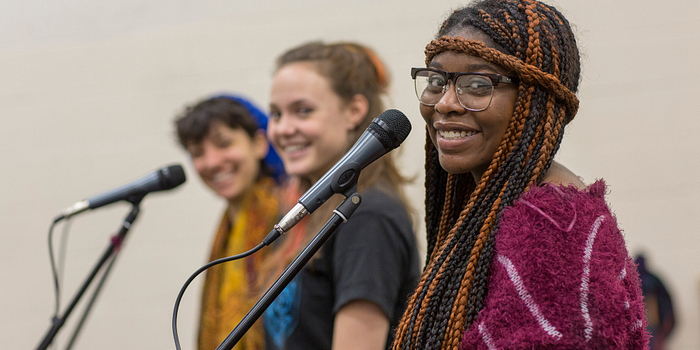 Do you have a song in your heart? Centennial College students are cordially invited to participate in an evening of song every Wednesday from 5 to 7 PM when the Ashtonbee Community Choir rehearses in the Friendship Centre, room L-102, at Ashtonbee Campus.
We welcome new talent! We believe that everyone has a voice and can participate in a choir. Even if you think you cannot sing, you will be welcomed warmly. Consider the benefits of belonging to a choir:
Two hours of fun, song and hard work;
Meet new people who share your interest and passion;
Develop a sense of togetherness and belonging with a group of diverse people from Centennial;
Enjoy learning about music and learning to sing with the goal of performing a variety of music.
It is a great pleasure to introduce our Choir Director, Natalie Stewart. With two music degrees and 18 years of experience, Natalie can be found teaching and performing at various venues corporately, privately, nationally and internationally. As a pianist and vocalist, Natalie balances the roles of educator and artist in her profession, all the while committed to providing quality in music education and performance.
Ashtonbee Campus is located at 75 Ashtonbee Road, near Warden Ave and Eglinton Ave East. For more information, please contact professor Donald Easson at deasson@centennialcollege.ca. Come and join the fun!