Remembrance Day Reflections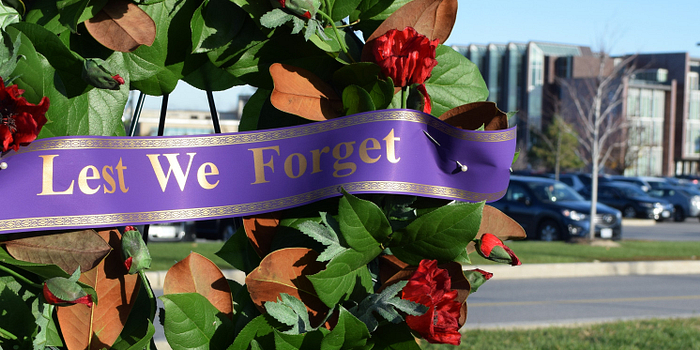 Reflecting on Remembrance Day, I am reminded that this day is truly not about coming together to examine war – it is about focusing, honouring, remembering, and thanking warriors; not the warriors of ancient times who were born to war, but those Canadians who chose to serve and defend.
This day is about knowing that war is never the desired option, but that as Canadians and those who have chosen to make this country home, we hold an ideal that is higher than personal belief, stronger than opinion, more compelling than a singular view – it is a unified certainty that when words fail, when negotiations collapse, when absolutely necessary, we will raise arms – literally and figuratively – in defense of the vulnerable, in solidarity with the downtrodden, in the fight for free and equal societies.
As Canadians, we are so fortunate to live in a peaceful country; not since 1812 has war truly touched our borders. But we have not been shielded from the horrors of war; while, for some of us, our view comes from media – often a report of a soldier lost in some far away land; for others it is the terror that wracks a mother, a wife, a husband, a child, whose loved one is a life time away, wearing our flag – fighting in a place so far away as to be unreal, and sometimes losing a life for ideals that although bigger than any one individual, may bring small consolation to those attending a grave.
While in a peaceful and peace loving nation such as Canada, we are not immune from paying a price for our commitment to building a better world. Today, our hearts are with the families of fallen soldiers, and we pledge our support to those who return home, sometimes fractured in body in soul.
It is important that we remember that hate can build when power is found by suppressing the rights of any part of our population. In many ways, the battle lines have shifted – from more narrowly focused battles between countries, to conflicts between ideologies whose borders shift and change. A war between those whose hearts and views are open enough to wish more for all people, and those who would strip away rights, subjugate women, use rape as a tool of war and control, hold a power not freely given from a people, but stolen used for self-aggrandizement, for ego, for wealth.
I am proud to be Canadian – proud to be from a country that fights for peace, justice, inclusion and equity. We have a history of first reaching out with a hand, before we reach out with arms. But as world events have shown us, dynamic communities are vulnerable when we leave people behind. One only has to look at the rise of virulent Nationalism in Europe, Brexit, and now the electing of a president of one of the most powerful nations on earth, who has made racist, misogynist statements, who freely describes assaults on women; a man for whom the truth is unnecessary in discourse; a man who builds walls instead of tearing them down. His popularity comes from tapping into hatred and anger, especially from those who feel disenfranchised and left out of the American dream. This story is one we must learn from. Canadians have died in protection of the values we cherish, and our war here at home, is one to preserve our culture and values.
Let us reflect on the sad truth that wars past and present have claimed the lives of so many young people—civilians and soldiers not much older than many of the students at Centennial. At this very moment, young Canadians are leaving their homes and families behind. Let us also remember the civilians—men, women, and children—who are enduring war and conflict today.
Remembrance Day is a day to reflect on our shared values and individual histories, and on what we can learn from the past. Today, I ask each of you to quietly reflect on what this day means to you, to honour those with the courage to engage when justice demands it, and most of all, to thoughtfully reflect on the role you can play in building a more just and peaceful world.
With respect and appreciation for the cherished Centennial community,
Ann Buller, President & CEO