Sexual Assault and Sexual Violence Prevention Student Design Contest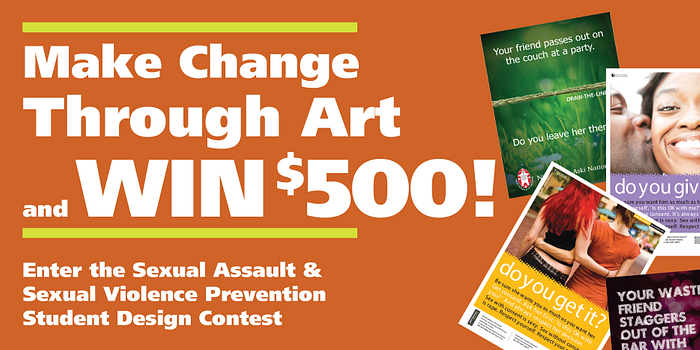 Make change through art and win $500
Enter the Sexual Assault and Sexual Violence Prevention Student Design Contest.
Why
We want to end sexual assault and sexual violence in our communities by raising awareness about prevention, defining consent, stopping harassment, and challenging stereotypes through student art.
What
Posters or artwork can reflect one or more themes related to challenging sexual assault and sexual violence in our communities, including, but not limited to:
How can we work together to prevent sexual assault/sexual violence?
What is our role in responding to sexual assault and sexual violence?
What does consent mean?
How can we challenge attitudes or actions that contribute to sexual violence?
Your poster cannot contain profanity, sexual content, violence or inappropriate content. Please include a 100 word explanation of your theme and how your artwork expresses this theme.
When
Deadline for submissions is 4 PM, Friday, March 25, 2016.
Who
Individuals or groups of up to four students can submit.
How
Posters and artwork may be submitted electronically to gcei@centennialcollege.ca, or dropped off at the Centre for Global Citizenship Education and Inclusion, Office B2-12, Progress Campus.
For the official rules and regulations, please visit the Contest Rules.