Volunteer for Centennial Welcomes Fall 2015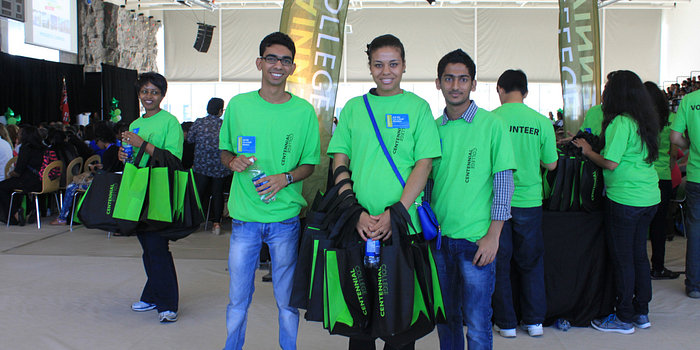 Are you interested in volunteering for Centennial Welcomes?
Help welcome our new students to Centennial College this fall and join our Orientation Volunteer team at Centennial Welcomes Fall 2015.
We need volunteers for the following campuses from 7:00 AM to 2:00 PM
Ashtonbee Campus on Monday, August 31, 2015
Story Arts Centre Campus on Wednesday, September 2, 2015
We provide all of our volunteers the enviable Student Crew T-shirt and training. A delicious lunch will be served. It will be an unforgettable, fun-packed day!
Sign up today!
If you sign up to volunteer at more than one campus you will be entered in a draw to win a $125.00 Aramark meal card. If you volunteer at two campuses you will have 2 entries, three campuses three entries, 4 campuses 4 entries, 5 campuses 5 entries. Please note that you must volunteer at more than 1 campus to be entered.
To sign up as a volunteer, please contact Hermena Cummings, Peer Mentor & Student Life Coordinator at hcummings@centennialcollege.ca or 416-289-5000, Ext. 3446.