We are looking for Student Peer Mentors!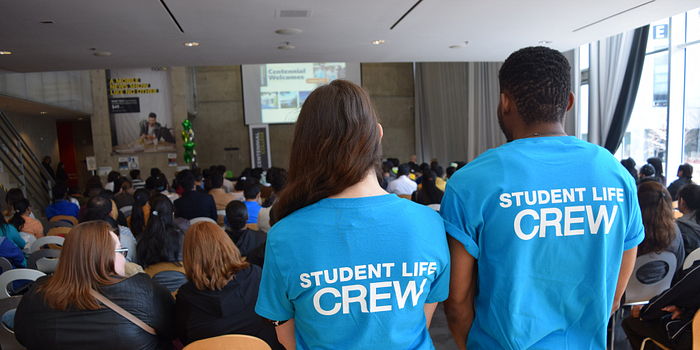 Are you a second, third, or fourth year student who wants to make a difference in other students' lives? Are you knowledgeable, reliable, punctual, and see yourself as a great role model?
The Student Life Enhancement Division is looking for Student Peer Mentors to help guide our new students (beginning in the Winter 2016 semester) to reach their academic goals as they start their new and exciting journey into college life!
Position Title
Student Peer Mentor
Location
Progress Campus, Morningside Campus, Ashtonbee Campus and Story Arts Centre.
Start Date
Beginning of January 2016
Position Summary
Student Life Enhancement Division
Reporting to the Peer Mentoring and Service Learning Coordinator, the Student Peer Mentors are responsible for communicating and meeting with a small group of first year students (mentees) during the Winter 2016 semester. Student Peer Mentors will answer general inquiries, share their experiences with first year students, inform mentees of resources and supports available to all students, attend a number of Centennial College events, and will plan monthly activities for student mentees to connect, learn and succeed.
Responsibilities
Participate in a mandatory training session in early January. Engaging and fun, the day allows Student Peer Mentors to bond while receiving very important and motivational messaging as a group.
Represent and provide information on the Peer Mentoring program and greet new students at Registration Start-up weeks and/or Centennial Welcomes Orientation, and Centennial transitional events where Student Peer Mentor presence is deemed beneficial.
Initiate contact, make introductions, and clarify mentees' preferred method(s) of communication.
Communicate regularly, build authentic relationships and rapport with a small group of mentees (at least twice/month).
Communicate with, work in conjunction with, and support fellow mentors to uphold a positive and collaborative group dynamic.
Regularly update the Peer Mentoring Coordinator on the progress that the group of student mentees are making, informing the Peer Mentoring Coordinator of any issues occurring.
Providing constructive feedback to both the student mentees and the Peer Mentoring Coordinator.
Suggest ways for students to get involved in clubs, associations, service learning projects, and other activities held throughout the College.
Encourage mentees to contact you for questions and/or concerns.
Check email regularly and respond within 24 hours.
Be informed about and speak to College services that the student mentees may wish to seek support from (e.g. Centre for Students with Disabilities, Counselling, Libraries, etc.).
Attend a mandatory Peer Mentoring Welcome/Kick Off event within the first two weeks of the Winter semester.
Work with a team of fellow Student Peer Mentors to create a monthly activity for Student Mentees.
Respect Student Mentees' privacy, ensuring that contact information and personal conversations are kept confidential.
Under the direction of the Student Life team, mentors also participate in, and assist in delivering, various student success related workshops and seminars designed for first year students.
When needed, mentors will also assist the Student Life Enhancement Division with day to day activities including but not limited to: student host programs, tour guides, student orientations and service fairs and other related services and programs.
In collaboration with the CCSAI and Student Relations office, mentors will provide advocacy support to students who are involved in various College processes such as academic appeals and behavioural issues. Mentors will add support to the CCSAI advocate program as required and will be trained in accordance to the needs of this function.
Qualifications
Must be registered as a full-time second, third, or fourth year student
Obtain a minimum GPA of a 3.0 or higher from your most recent semester
Demonstrated leadership and/or community involvement/volunteer experience an asset
Experience in peer tutoring or mentoring an asset
Ability to work independently and in a team environment
Awareness, empathy and sensitivity in communicating with a diverse client group
Hours
Work hours will differ based on student needs
Salary
Student Mentors are hired on a voluntary basis. Volunteering as a peer mentor counts as a credit towards the Leadership Passport Program. In addition, you will receive a certificate of appreciation from the Student Life Office, attend an end of year celebration event, free swag from events, free lunch at all applicable events, a free mentoring t-shirt, employability skills, and great experience for your resume!
How to apply
If you are interested please send your resume and cover letter to peermentoring@centennialcollege.ca by Monday, December 14, 2015.
When applying, your cover letter and resume must include examples that reflect all of the requested skills and qualification. We regret we cannot accept phone calls. We wish to thank all applicants for their interest and advise that only those selected for an interview will be contacted.