Cyber Security Awareness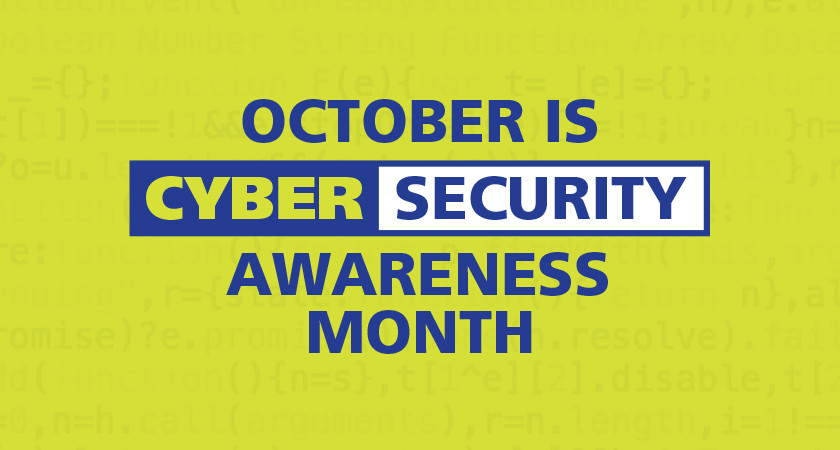 With the heightened focus on cyber security incidents around the world, the College is more committed than ever to ensuring that cyber security is top priority for the Centennial College community.
Cyber security awareness is about fostering security consciousness in our digital existence. This site is aimed at providing resources that you can use and simple steps you can take to protect yourself online.
Practicing safe online habits is a shared responsibility we all have a part of, whether at home, in the workplace, or in our communities. Do your part and be Cyber Security smart!
---
Cyber Security Awareness Month Draw Winners!
Cyber Security Month may be over, but this year's event has done a lot to raise awareness of the ongoing issue of online security breaches that can wreak havoc with banks, hospitals, learning institutions and even transit systems. To encourage participation in our online security awareness training, prize draws that awarded a total of $2,500 in MyCard credits were held for Centennial College students and employees. The weekly prizes, which were drawn at the end of October, offered credits valued at $100, $50, $25 and $10 each.
We're very pleased to announce the following Centennial students have won MyCard credits. The remaining rewards were redeemed by our staff winners, who were contacted directly by email.
---
$10

$25

$50

$100

Regie Dela Cruz
Maria Luisa Espinola
Camila Nieto Moya
Brittany Tickell
Jannatul Ferdous
Mustafa Butt
Andres Perez Marin
Vinder Pal Singh
Aderinsola Rojaiye
Man Young Oh
Martin Kuriyan
Brittany Tickell
Chuanyi Zhou
Emerson Skinner
Dupe Kolawole
Alvin Mercado
Shupto Aron Mondol
Thanh Tu Nguyen
Martin Kuriyan

Ka chun Cheung
Katherine Martinez
Andrew Mcleod
Jeewanjot Kaur
Qianna Dookeran
Narome Robinson
Yohana Weldegabir
Thanh Tu Nguyen
Thahiya Tayna
Myunghee Jung
Chuanyi Zhou

Loveleen Kaur
Mirunan Pirabaharan
Rahul Rameshbhai Lalwani
Timothy Jones Ong
Shupto Aron Mondol
Joey Chen
Simranjeet Kaur

Meet Patel
Nick Gembert Padernal
Regie Dela Cruz
Clive Lau
Thanh Tu Nguyen
---
Security Awareness Training
The best way to defend against cyber criminals is to arm yourself with knowledge. Centennial has teamed up with Proofpoint, a leader in the cyber security industry, to make training modules available to our community.
The security awareness training modules can be accessed via eCentennial where you can find your other course materials. Please visit https://e.centennialcollege.ca/ and on the main page under "Announcements" click on the link that indicates "Access the Cyber Security Awareness Moduel Here" or, alternativly, access the content under the "Student Resources" section.
Prizes! Prizes!! PRIZES!!!
This year we are awarding a total of $2,500 in myCard credits! All you have to do is complete the weekly awareness training on eCentennial and you will be automatically entered into the weekly prize draw.
We will be doing 5 draws, one for each week's topic and a final one to wrap up the October Cyber Security Awareness Month. All prize draws will be conducted at the end of Cyber Security Awareness Month, and all winners will be contact via their Centennial College email.
Weekly Prize Breakdown*:
$100 x1
$50 x3
$25 x5
$10 x10

Final Draw**: $100 x6
*If you have won a prize in the previous week(s), you can still win a prize the following weeks.
**To be eligible for the final draw, you must participate and complete all 4 weeks of the awareness training.
---
Weekly Topics
Each week of October there will be a new topic presented in an inforgraphic format. Below are the names of this year's topics:
Week 1 - Phishing
Week 2 - Ransomware
Week 3 - Multi-Factor Authentication & Passwords
Week 4 - Social Engineering
Additional Content - Home Networks & Smart Devices
To make the infographics bigger click on the "full screen" button
Want to learn more?