Tips for Staying Safe Online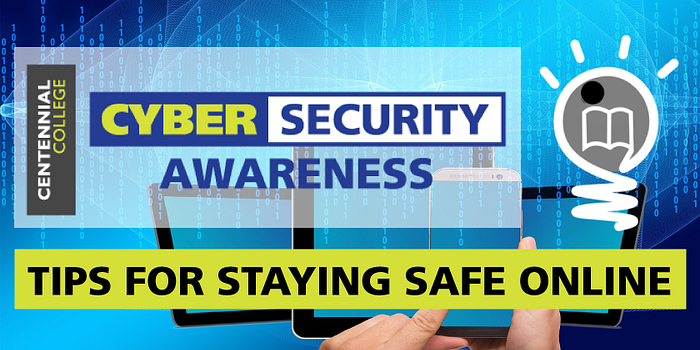 Individuals and organizations of all types are targets of cybercrime. Cybercrime can happen in a number of different ways, but most often the aim is to steal/misappropriate personally identifiable information (PII), intellectual property, account credentials (i.e. user names, passwords, etc.), etc. with the goal of using this information to make money and/or defame a person/organization.
Centennial encourages students to be vigilant in their online activities by practicing safe online habits. Therefore, below are some tips to help you avoid becoming a victim of cyber crime.
Use secure means of communication: By this we mean you should avoid connecting your devices to unprotected or "open" public Wi-Fi connection. Instead consider using your devices data plan or a VPN if available.
Protect your computer - Lock before you walk: Be sure to lock your computer (Windows key + L) if/when you step away from it, regardless of the duration. Ensure that your devices are not left unattended, especially in public places.
College Email: All Centennial College students are given a myCentennial email account. Centennial encourages students to use their College email account when conducting any College related activities.
Be Aware of Phishing (Social Engineering) Messages: Phishing messages try to obtain confidential information such as your name, address, and passwords. Some emails may contain links to viruses. Do not download or open any attachments that accompany suspicious or unexpected messages.
Phishing messages may appear to come from a legitimate financial institution, e-commerce site, government agency, school, place of employment, or any other service, business, or individual.
Use Strong Passwords: Creating strong passwords is an essential step to protecting yourself online. Using long and complex passwords is one of the easiest ways to defend yourself from cybercrime. Use different passwords for different services and never share your passwords with anyone.
Where available, always opt to enable Multi-factor authentication (MFA), particularly for accounts with sensitive information, especially email or bank accounts. MFA helps verify that a user has the appropriate authorized access to an online account. For example, it could be a one-time PIN texted to a mobile device, providing an added layer of security beyond the password and username.
Avoid using USB drives: A general best practice is to avoid USB drives at all. Free USB drives, or USBs from unknown sources can contain malware that can target unsuspected users. Even if you know where the USB came from/you purchased it, forgotten passwords, loss, or theft can put the valuable data stored on them at risk! As an alternative, consider using your College provided H drive or OneDrive available to all current students through Microsoft 365. For more information on how to access these resources, please refer to A Guide to IT Services.
Personal devices: Centennial is responsible for maintaining and securing College owned devices. However, personal devices are the responsibility of each individual. Therefore, it is important that you ensure your devices are secure and protected. Here are some tips for securing your person devices:
Have a reputable anti-virus program installed on all of your devices and keep it updated
Keep your device up-to-date with the latest operating system patches and releases. Not performing the recommend updates leaves your devices open to vulnerabilities.
Ensure all installed applications are kept up-to-date
Password protect your home Wi-Fi (if it hasn't been done already), otherwise anyone can gain access to your home's devices, if possible change the default passwords on the routers/modem supplied by your ISP
Avoid using unknown or non-password protected public Wi-Fi networks. Do not use public Wi-Fi to access College accounts or services
Don't give away any personal information when you chat while gaming online with strangers
Avoid installation of unknown or unsolicited programs
Avoid installation of unknown or unsolicited programs
Use different passwords for all of your accounts and make the passwords
Additional Resources