Enactus Centennial Team earns three Impact Awards at 2016 Enactus Competition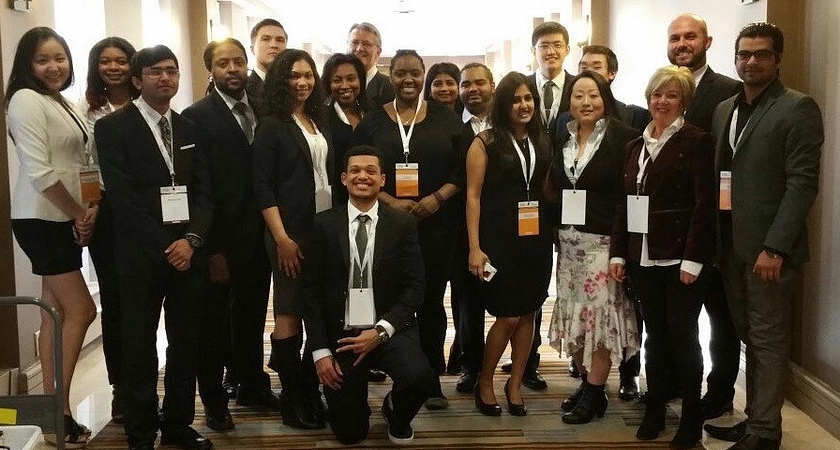 The Enactus Centennial College team won three Impact Awards at the 2016 Enactus Central Canada Regional Competition, held March 10-11, 2016. Enactus Canada, a worldwide charitable organization, strives to shape generations of entrepreneurial leaders who are passionate about advancing economic, social and environmental health in Canada through student-run organizations by impacting individuals, businesses and communities through entrepreneurial action.
The Impact award acknowledges the Life Cycle Development programming created by our student Enactus team in the areas of Financial Education, EcoLiving and Youth Empowerment. Each program is supported by faculty.
"I work with the students to ensure they stay on the right track with the information provided and teaching strategies," says Nadia Jones, Enactus Centennial Faculty Advisor and Program Manager of Beyond the Rim. "What's really amazing about Enactus Centennial is that it provides a platform for students from any program at Centennial College to put into practice their academic training in real-world, work environments."  
The Enactus Centennial team won the Scotiabank EcoLiving Impact Award because they were able to identify environmental problems for children in grades five and six. They taught empowerment techniques and solutions on how youth can develop eco-friendly ideas. The topics included product waste association, green sales, marketing techniques and challenges associated with creating innovative solutions to address environmental problems.
The Scotiabank Financial Education Impact Award focuses on educating youth from ages 12 to 13 on the importance of financial concepts such as understanding the differences between wants and needs, saving principles, investment strategies, budgeting and banking literacy. Students learn concepts through the "Financial Game of Life," which tested their knowledge on the importance of life changing events that could happen.
The Enactus Centennial team also won in the category of TD Youth Empowerment Impact because of the work done with children in the Beyond The Rim program. The program focused on self-regulation for children in grades 2-4, which is a key element in the development of emotional intelligence. Children in grades 5-6 were taught on environmental sustainability. The focus for grades 7-8 and tweens were taught financial literacy.
Affecting change and awareness of programs that support the youth of today is always a solid win! Congratulations to the Enactus Centennial Beyond The Rim team: Sana Usmani, Alia Rhule, Jaclyn Wight, Melissa Foh, Scott McWilliams, Zoi Moschonas, Romario Potter, Misal Salih, Rammiya Sathanatham, Malcolm You, George Chumakov, Quenton Thompson and Jen Chen, faculty advisors Drew Smylie, Nadia Jones, and Kathleen Leslie for another successful year.
By Dainah Ramsay