Enter the courtroom with Court Support Services at Centennial College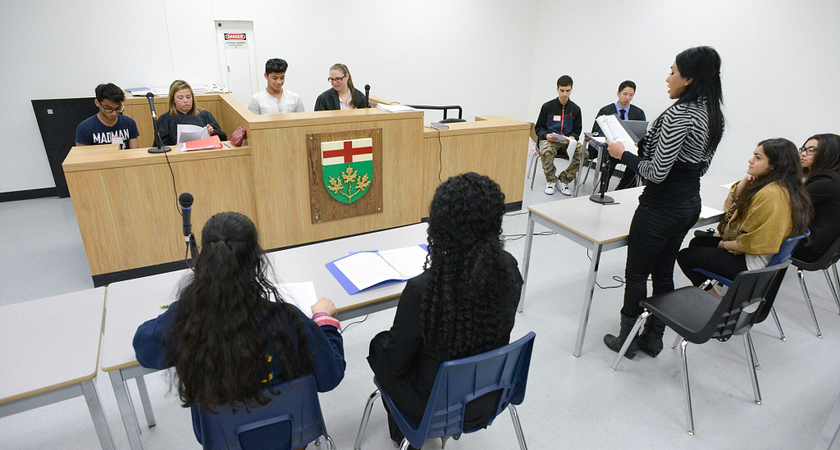 There's more to a court than just being lawyer. In order to make Canada's legal system run, we also need professionals in more practical roles, like a court monitor or court reporter. Centennial College's Court Support Services makes you into one of those professionals. Taught at the School of Business, the program is fast, giving you a Centennial College Certificate after only two semesters, and features a practical approach to its education
While it's important to study the theory of law, the way to ensure that knowledge is retained is to practice it in a realistic setting. You get hands-on experience, getting you out of the lecture setting, and into practically practicing your profession.
One such opportunity is the college's partnership with the Ontario Justice Education Network (OJEN). The college uses the partnership to host the Centennial College OJEN Symposium: Everyday Law. This special event links the school's law programs, including Court Support Services, with Toronto high schools. The centrepiece of the event is a special Mock Trial, where students from Court Support Services and the Law Clerk program team up with Toronto high school students to participate in a simulated trial, complete with witnesses, cross examination, and a verdict. Each student acts the part that they would in a real trial, giving them job experience in a safe, simulated setting.
This isn't the only way you'll gain experience in the program. Other practical learning opportunities include regular attendance in family, criminal, small claims and municipal court settings, letting you watch the experts work. The staff of the program work with students to make sure they spend as much time in court as possible before they pursue it as a career.
If you're looking to enter the legal world, Court Support services offers a simple, direct path to employment, with a program that will provide you with valuable real experience, setting you up for success helping uphold Canadian law.
By Anthony Geremia