Five ways Centennial College makes you an experienced Law Clerk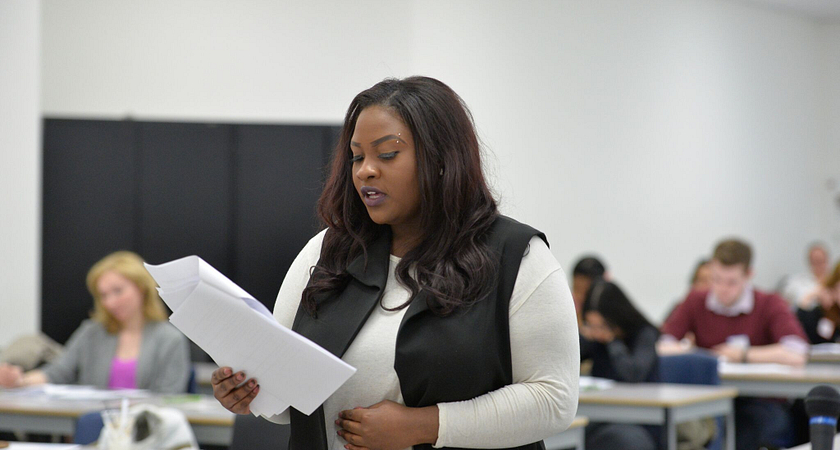 There's many ways to get a job in law, and becoming a Law Clerk in Toronto is just one of them. At Centennial College, our Law Clerk Program will provide you with all the skills you need to succeed in the field, augmented with practical experience. Here's how:
1. Mock Trials
Centennial College believes that hands-on experience is the best way to learn, which is why many of our programs get you out of the lecture setting, practicing your profession. Centennial's Law Clerk program partners with the Ontario Justice Education Network (OJEN) to conduct Mock Trials along with Toronto high schools. The experience allowed Law Clerk students the opportunity to work on their profession on their feet, while the high school students get a taste of a possible career path and a post-secondary experience. Read more about the mock trials here.
2. A field placement
What better way to learn than in the field? Our Law Clerk program features a four-day-per-week work placement in the final semester. Running for 14 weeks, you'll work in a law, corporate or government office, giving you work experience and letting you apply your knowledge to real-life legal situations.
3. Diversity
In the Canadian legal system, clients can come from any background, race, or social status. The legal world serves everyone, so it's only fair that the people that work in our courts come from a diverse background. That's why it's important that anyone with the will to learn can become a member of our legal system. Centennial College's diverse community is reflected in the student body currently enrolled in our programs, including the Law Clerk program. Some are from Canada, some are immigrants, some have been working, some are new to school, some even have children. Your peers will reflect the environment you will soon work in.
4. Formal Accreditation
There's recognition behind the diploma you earn for completing this program. The Institute of Law Clerks of Ontario (ILCO) accredits the Law Clerk program, meaning that employers will know there's a high standard of learning behind it.
5. Opportunities for further learning
If you graduate from the Law Clerk program and decide to pursue further education, you'll have the ability to enter Centennial's one-year Paralegal graduate certificate program. And if you want a university education, we have articulation agreements with select ones, letting you apply your credits towards further study.
By Anthony Geremia