The Must-Have Health Services Office Administration Skills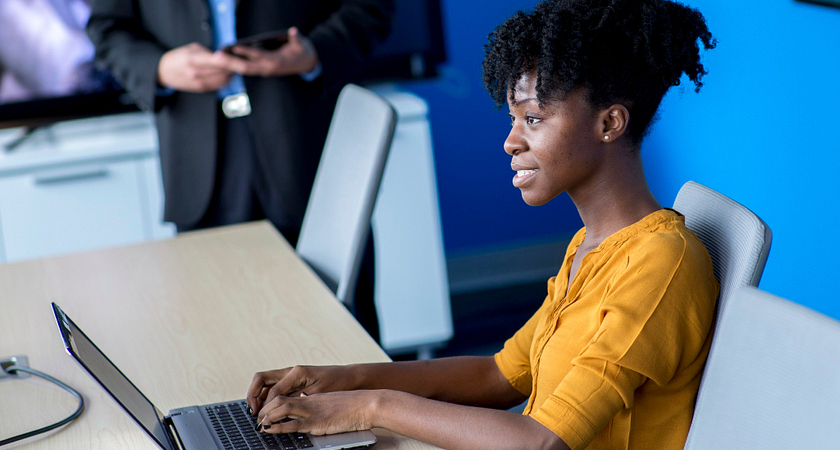 A crying toddler with a fever and a mother concerned about the child's health. A young man with a cast on his arm, waiting expectedly for results of how his healing is coming along. An elderly woman accompanying her husband for his yearly checkup. It's a common scene in a health care setting, and one that can get pretty hectic as a doctor's appointment takes longer than expected or a medical emergency pushes back a medical professional's schedule.
Ensuring that today's dynamic health care environments run smoothly are office administration professionals who specialized in health services. At colleges such as Centennial College, these professionals gain the know-how to stay calm and in control by using organizational and clinical support skills that ensure patients receive the highest quality of care and service. Students in Centennial's Office Administration – Health Services program even have the opportunity to participate in a health care work placement, two-days-per-week, before they graduate.
You're also not limited in this field as titles include: medical office assistant, receptionist or administrator, medical office manager, patient care coordinator and more.
So, what type of knowledge and skills are crucial to have as a health admin professional? Check out some of the fundamentals.
Medical Terminology
To be effective in a field, you must speak its language, and health is no different. In fact, medical terminology is crucial to being able to provide patients with safe and efficient care because it precisely describes the human body including its components, processes, conditions affecting it and procedures performed on it. That means you have to build a vocabulary of common medical terms that are utilized in secretarial/clerical and clinical duties within hospitals, medical clinics or private doctor's offices. In this role, terms related to the anatomy, physiology and pathology of the integumentary, digestive and respiratory systems are the focus.
Medical Transcription
Competent health care means a lot of communication, and medical transcription is a major part of that. It's the manual processing of voice reports dictated by physicians and other health care professionals into text format. These may include everything from clinical summaries to surgery notes. In many cases, these notes are crucial for patient medical histories, insurance claims, and the immediate diagnosis and treatment process. Depending on their role, Office Administration professionals may be responsible for converting these files into text. Medical transcription differs from general transcription in that the medical terminology we know is so important comes into play and you have to understand it for accurate transcription. In addition to specialized industry language, you also have to consider complicated formatting and privacy concerns when transcribing.
Electronic Health Record Management
Keeping people in optimal health requires meticulous record keeping. Today, that's achieved through the electronic health record (EHR), which is a digital version of a patient's chart. In Canada, Canada Health Infoway is actually helping each province and territory in creating a network of interoperable EHR solutions — one that links clinics, hospitals, pharmacies and other points of care. According to this organization, more specifically, EHR is "a secure, integrated collection of a person's encounters with the health care system; it provides a comprehensive digital view of a patient's health history." Office admin professionals are in charge of the management of EHRs in their respective workplace settings. This involves being responsible for the accuracy, completeness, confidentiality and security of all health care information.
In the medical field, health claim billing is crucial. To effectively complete this process, you'll have to know the Ontario Ministry of Health (MOH) Schedule of Benefits and its Preambles. Working knowledge of how the MOH operates as well as how health claims are processed from patient encounters to receipt of payment is beneficial. The actually billing process may involve preparing billing sheets for patient claims, completing billing sheets typical of a general surgeon, preparing claims for procedures and services using evening and night rates, and third-party billing. You'll also have to know the process of OHIP health claims billing and reconciliation, which may include designing an efficient billing and reconciliation system.
Written by: Izabela Szydlo
Resources
https://en.wikipedia.org/wiki/Medical_terminology
https://www.medicalbillingandcoding.org/human-anatomy-medical-terminology/
https://searchhealthit.techtarget.com/definition/medical-transcription-MT
https://www.transcriptionoutsourcing.net/blog/what-is-medical-transcription/
https://www.infoway-inforoute.ca/en/solutions/digital-health-foundation/electronic-health-records
https://www.healthit.gov/faq/what-electronic-health-record-ehr