Inside the World of Contact Centres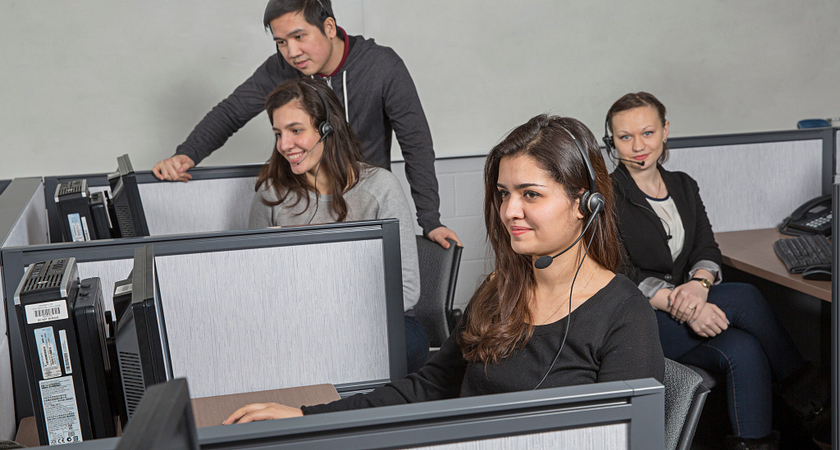 When it comes to call centre customer service, hearing the phrase, "To speak to an agent, press 1, followed by the pound key" or, "Would you like to speak with a representative? Say, 'representative'" is often a relief. While automated systems are important in helping to filter calls to the correct department at a contact centre, there is simply no replacement for speaking with a human, whether it's regarding an item you ordered online or charges on your cell phone bill that you want to clarify. The contact centre environment requires specially-trained professionals who range from sales representatives and customer service representatives to quality assurance managers. Here's a look at the various aspects that make up the world of contact centres.
What is a Contact Centre?
While you may be familiar with the term "call centre", a contact centre is actually different. Yes, both are customer service resources and involve companies communicating with clients over the phone. But that's where the similarities end. Contact centres employ a range of other ways customers can get in touch with a company such as e-mail, live online chats, fax and direct website interface. People increasingly want options, and contact centres must adapt. When it comes to phone calls, being sent through an automated system first actually has important purposes. It's called "call distribution" and in addition to getting you to the right person, it is designed to prevent wait times. The fact that contact centres utilize more communication platforms also means contact centre positions can better suit more applicants. For example, if your strength is in written communication then you may be better suited for a position as a live chat agent rather than an agent who takes phone calls. Another contact centre distinction is that in a contact centre, a manager can change their team members' priorities for maximum efficiency in real-time. This allows for better working as a team while still taking care of individual stations, tighter security measures and data gathering as well as the flexibility to adapt to fluctuating call volumes. Overall, contact centres are the next generation of call centres.
What Some Contact Centre Careers?
Whether you really enjoy helping people through customer service, have a knack for sales or possess leadership qualities, there is a role for you at a contact centre. The hierarchy of a contact centre typically begins with a customer service director under whom is the contact centre manager. This then trickles down to team leaders who lead teams of contact centre agents, customer support representatives and salespeople. Customer service representatives are the "face" of the contact centre, as they interact directly with customers. They must be clear communicators, problem solvers, active listener as well as empathetic and adaptable. A customer service agent's tasks will depend on the company they work for and whether they are taking inbound calls or making outbound calls. Inbound calls, for example, include handling customer complaints or concerns. Outbound calls may include making sales. Team leaders, meanwhile, are responsible for ensuring that customer service representatives reach their targets and reviewing their performance while coaching them. Team leaders are typically also in constant contact with the managers, providing feedback and discussing issues that arise. In addition to being clear communicators, they should also have multitasking skills, be organized and dependable as well as possess expert product or service knowledge.
How Can You Start Your Contact Centre Career?
At colleges such as Centennial College, all it takes is 14 weeks of training to get your foot in the door. The Contact Centre Operations certificate program is now even being offered online for added convenience and flexibility. It will teach you about all the essential topics and practical applications you need to successfully navigate a contact centre environment. From customer service and sales to marketing and computer applications, the full-time program covers it all. A faculty member who teaches in the programs says contact centres are today's mailrooms — meaning gaining employment in a contact centre is an effective way to get your foot in the door and move up in the company as you gain internal experience.
Written by: Izabela Szydlo
Resources:
https://aircall.io/blog/call-center/contact-center-vs-call-center/
https://www.callcentrehelper.com/typical-roles-in-a-call-centre-51389.htm
https://hiring.monster.com/employer-resources/job-description-templates/call-center-agent-job-description/