QUESTIONS
P.O. Box 631 Station A
Toronto, ON, M1K 5E9
May 4-8
May 4-8
Update: May 6, 2020, 8:19 AM
Your Good News Bulletin
Chef Stephen Field earns Internationalization Award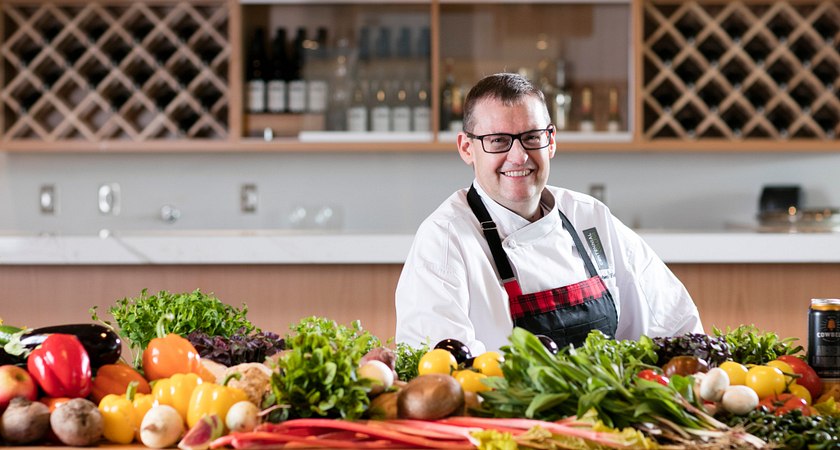 Congratulations to Chef Stephen Field, who has been selected by Centennial's Internationalization Excellence Awards (IEA) committee to receive our Internationalization Excellence Award. It's presented annually to a faculty member who has made a significant contribution to both advance and integrate internationalization efforts within our learning environment and the wider College community.
The IEA committee was impressed with Stephen's dedication to ensuring students learn the value of recognizing diverse perspectives, realizing the importance of global citizenship in action and deepening empathy of global social justice issues. Stephen developed two critical service-learning projects through the Global Citizens Take Action initiative that focused on foraging and Indigenous cuisine, climate justice and sustainable fishing. He also established two Global Citizenship and Equity Learning Experiences (GCELEs) to Brazil in 2018 and 2019, and an Applied Research Abroad Program (ARAP) to Morocco in 2020. Our sincere thanks to Stephen for his positive contributions that allow students to participate in meaningful learning that will have an impact locally and globally!
Centennial marks 50th anniversary of Earth Day virtually
Centennial took part in celebrating the 50th anniversary of Earth Day on April 22 – virtually! Our sustainability team, in partnership with Marketing and Communications, crafted an eco-conscious campaign that focused on our contributions to a sustainable culture and also what each member of our community could do at home to reduce their ecological footprint, such as eating fresh local food, reducing waste and conserving water and energy. These posts were shared throughout April on all college social media channels with the hashtag #CCSustainability. You can search this hashtag to review our posts through Centennial's social channels (Facebook, Instagram, Linked In, and Twitter); all future sustainability posts will be using this hashtag. The posts also directed followers to an Earth Day events page, which provided opportunities to engage in virtual events, with many covering the parallels between COVID-19 and the climate crisis.
Some upcoming highlights for the month of May which focus on community engagement include:
The launch of a Sustainability at Centennial section on our College website (coming soon).
A campaign to support the College community (students, staff, retirees, alumni) that want to start a garden at home by creating a forum to share tips and tricks, as well as connect novice gardeners with experts. Our community will also be encouraged to share their pics on social media with a specific hashtag (TBD) so that we can all encourage one another with our progress towards growing our own fresh food!
Virtual events are also being planned for Canadian Environment Week, which occurs in the first week of June.
There's been a surge of interest in growing food at home. Check out this instructive video on How to Regrow Everything.
Interest in Student Leadership grows
The Centennial Leadership Academy team has hosted a number of webinars since the College transitioned to online teaching and learning. We had more than 360 participants join our online leadership programming since March 16. Programs included an exciting post-retreat session with 44 students who participated in a Student Leadership Retreat in February, and Leadership Passport webinars encouraging those finishing the term to take advantage of the passport as a tool for personal reflection and professional development. The Leadership Passport has grown in popularity this term, with 139 students working on their Leadership Passports requirements. Distinctions in Leadership will be awarded to 77 students, a 75 per cent increase over the number awarded in Winter 2019.
Broadcasting students complete 'The Journal' remotely from home
Our Broadcasting students hit a major production hurdle this semester, jumped it and delivered an amazing final result. Fourth-semester students collaborated on a two-course wide project, THE JOURNAL, which is normally produced as a live-streamed TV show that is presented during the last four weeks of the semester. It's a lifestyle and news show made up of compelling short documentaries presented by student hosts.
With the COVID-19 crisis, the production for the live-stream show was suddenly cut short with the cancellation of lab and studio access. THE JOURNAL team was forced to pivot and produce shows from home. Story producers finished up more than fifty short docs, then teams from the three class sections each produced, packaged and edited four full-length shows at home, for a total of 12 shows. The stories cover a range of diverse cultural topics including on-campus events, mini-biographies, music, art, community activity, neighbourhoods, sports, festivals and loads more. Watch The Journal here.
Co-Curricular Student Learning and Development (CCSLD)
The CCSLD Unit is working very hard to provide meaningful and value-added services and programs to our students during this challenging time. Here are some of the key programs being offered:
Thursdays Together, a themed weekly get-together featuring fun activities such as puzzles, playlists, virtual museum visits and travel destinations;
Daily Conversations keep students connected to the College and to peers during the quiet time between semesters;
ENDSmart helps students complete the term and get ready for the college-to-work transition successfully;
STARTSmart assists those transitioning into college, starting May 11 through May 15
New Student Orientation for both domestic and international students, May 20 and 21.
Since its launch on April 7, the CCSLD online Engagement Resource Map has been viewed more than 42,000 times – an impressive number that suggests our programs are of interest to many students during the disruptive pandemic situation.
Centennial's Toastmasters clubs rise to the occasion
Established through the Centennial Leadership Academy last fall, Centennial's very own Toastmasters clubs – Speak Up Centennial and Voice of Centennial – are dedicated to public speaking and leadership development. The clubs continue to meet online on Thursday and Friday evenings with 15 to 20 participants at each meeting. The online format has brought creative solutions to the management of meetings and engaging a live audience – both crucial employability skills. Interested in joining? Contact Magdalena at mgoledzinowska@centennialcollege.ca.
---
Update: May 4, 2020, 11:00 AM
Monday Message from Craig Stephenson, President and CEO
Dear Centennial College Community Members,
This weekend, I came across a compelling piece of writing by Alexandra Few, a student in our Communications – Professional Writing Program. In their entry on the School of Communications, Media, Arts and Design Blog (Social Distancing Sentiments: A Student's Perspective on COVID-19), Alexandra writes,
"We have been thrown into this unknown territory where we've been asked to simply just adjust and I think whether we are aware of it or not, we're changing as individuals and collectively. We are all going through this shared experience at the same time, which is bound to make us aware of our individual actions, while also connecting us like never before."
We are indeed engaging and connecting like never before! Thank you to Alexandra for conveying what so many of us are experiencing and feeling, including the fact that "the wave we experience when coping is extremely real and can vary for everyone, but it's important to remember whatever you may be feeling is valid. There is no 'right way' to deal with all of this...."
How we manage and cope as individuals is, as Alexandra shares, very personal to each of us. What matters is that we are here to support, nurture and look out for each other. In this respect, my role is twofold. First, at the personal level, wherever able, I am reaching out to team members and students through personal calls and emails, Zoom meetings, and by reviving the President's Listening Tour (starting this Thursday, May 7). Second, at the institutional level, along with the Executive Team and senior leadership, I am devoting a great deal of my waking energy and thinking into stabilizing the institution and preparing us to emerge post-COVID-19 all the stronger, all the more able, and ultimately, all the more successful.
I know that we can do this. Our record of accomplishment over the past seven weeks bears testimony to our extraordinary ability to adapt and adopt. This is exemplified by our approach to academic delivery, our core business, which I would like to focus upon today.
To Date
During the week of March 16-20, we suspended all classes (including our online courses) in order to provide faculty with time to plan course delivery strategies for distance teaching. Their delivery was assisted by the Centres for Organizational Learning and Teaching (COLT) and Academic Quality (CAQ) whose teams co-developed an online Academic Continuity Toolkit to assist faculty in transitioning their courses to distance teaching. A number of virtual faculty development sessions were also concurrently provided by COLT, CAQ, Libraries, the Centre for Global Citizenship, Education and Inclusion (GCEI) and the Centre for Part-time and Online Learning (CPTOL). In addition, all students received program-specific Semester Completion Plans to guide and support them through the remainder of the winter semester, while Faculty developed semester recovery plans for clinical and field placements and alternate assessments where feasible.
Summer Semester Plans and Virtual Registration
Given the uncertainty regarding our ability to resume regular campus operations and program delivery, summer semester programs will be (for the most part) online. Because some programs cannot be transitioned to online or distance teaching, a number have to be suspended. In the fall semester, those same suspended programs will run in a hybrid format (i.e., delivered partly online, and partly on-campus with physical distancing and other health and safety measures firmly in place).
The Academic Excellence Unit (AEU) continues to support faculty in building capacity to transition their courses to online learning. Faculty subject matter experts and professional instructional designers selected 23 programs for full online development to be delivered to the new intake in the summer (first semester students). The team also launched an Online Learning Toolkit to support new and returning students entering the summer semester with the essential FAQs and resources students need to glean the most out of our online programs and courses. For a listing of summer programs running/not running, please click here.
The new summer virtual registration period will be open to students from tomorrow, May 5 (first and last semesters only), with greater self-serve options, real-time tracking for student inquiries, and streamlined access points to personal service. Supporting our faculty and success advisors through enhanced triage and tracking, students will have greater access to have their questions answered quickly and without multiple touch points. With the launch of our registration portal, students will have one-stop access to the most up-to-date and relevant registration information and contact information.
Fall Semester Plans
The fall semester presents us with even greater complexities, given the uncertainty surrounding a potential rebound of COVID-19, and the possible resulting need to resume self-isolation and distance teaching, learning and college operations. Academic schools are planning for curriculum delivery for the fall semester that will include a combination of programs delivered solely online (where these have been developed), or via a hybrid format.
To support and assist faculty in this transition of our courses to online and/or hybrid formats, COLT will continue to deliver an array of online and web-based seminars, webinars, tools, and resources facilitated by a number of service areas including COLT, CAQ, Libraries, GCEI, and the Centre for Accessible Learning and Counselling Services (CALCS). You can learn more about what is on offer at the following link.
Planning is underway for scheduling the fall semester. With questions still unanswered about what physical distancing restrictions will be in place come September, the Scheduling team is preparing for two scenarios: 1) a hybrid delivery approach where some courses will take place on campus and others online, and 2) a fully online approach. Enhancements to the summer semester registration process, allowing for a 100% online experience, will be reviewed, enhanced, and implemented for the fall semester as well.
To Conclude
As you can see from all the planning, preparation and provisions currently underway, countless staff, faculty and administrators have been working diligently behind the scenes to reconfigure and redesign the summer and fall semesters to make them work effectively within a global pandemic context. Consequently, we are strongly poised to receive, support and teach students to the high standards that we have all come to expect.
At a time when people feel they cannot move freely, when many have lost significant funding sources and when others have had their confidence knocked and their momentum thwarted, the real challenge will be in attracting students to sign up for the summer and potentially the fall semesters. It is incumbent upon us all to mobilize our efforts, think outside of the box and act collectively and collaboratively to attract and retain students; that is my number one ask of you all right now.
What's more, we have a wonderful learning environment to offer and be proud of and if you do not listen to my voice on this, then please listen to Alexandra, who speaks highly of the College in their concluding remarks:
"With the semester coming to an end, it's fair to say we didn't expect to finish this way. However, Centennial has been making significant efforts to ensure we have the resources we need, which I have really appreciated through all of this."
I join Alexandra in expressing appreciation for all of your "significant efforts." From the faculty and academic teams who transformed the classroom into a virtual environment, through to all front line (e.g. advisors, tutors, counsellors, customer service representatives) and backstage teams (HR, IT, Marketing and Communications, Government Relations, Alumni and Development, Research, Facilities, Finance and Corporate Services) – thank you! Thank you for rising to the occasion and putting our students first. Our students, and, as a natural consequence, this gem of an institution, Centennial College, will emerge all the stronger because of your collective efforts.
Take care and have a great week!
Dr. Craig Stephenson
President and CEO, Centennial College