Storyworks Case Study | KITE – UHN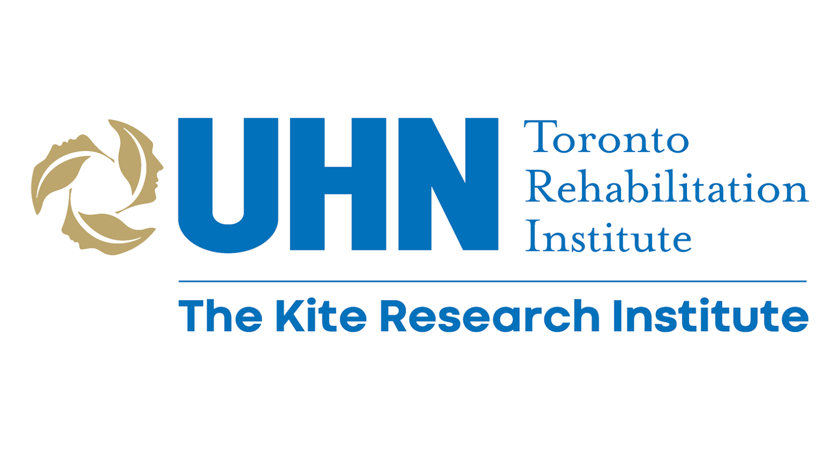 KITE – UHN is the research arm of the Toronto Rehabilitation Institute, which is part of the University Health Network (UHN), Canada's leading research hospital. Its main focus is on preventing injuries, restoring function, and enabling independence. Newly Branded as KITE for the last two and a half years, the acronym stands for Knowledge, Innovation, Talent, Everywhere.
KITE is a new client to Storyworks yet has already established a great opportunity for students in a variety of programs at Centennial. At the beginning of the KITE x Storyworks collaboration, two students within the Communications – Professional Writing (CMPW) program worked with the clients in developing a project plan that ultimately expanded to include more students in the Winter 2021 term. Now that the collaboration has progressed, more students in the program have been able to contribute to what is now a larger project - KITEworks, a new magazine produced by KITE that directly displays the work students have put together.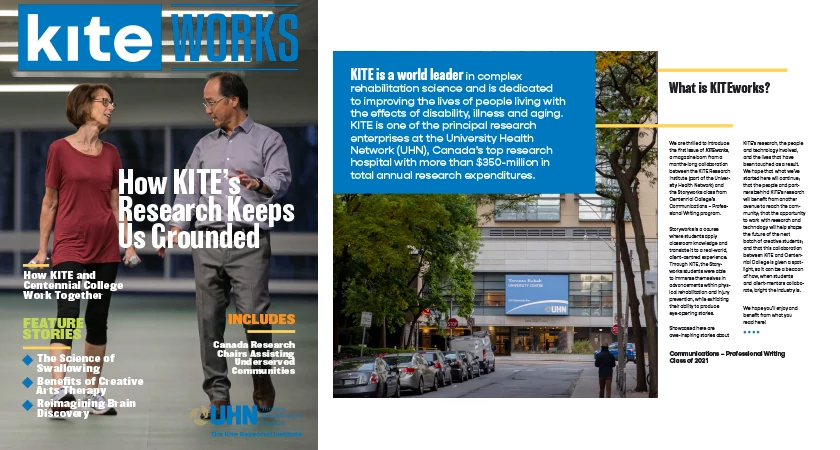 Joelle Berlet and John Rojas, students in the CMPW program, as well as managing editors for the magazine, share, "We are lucky to be working with an ultra-flexible client-mentor, as they allow for creativity and out-of-the-box thinking when dealing with challenges. It was daunting at first, but a supportive and open-minded attitude from the client eased us into our roles. As well, the exposure to awesome technologies and scientific advances is definitely a plus!"
In terms of the work that they produced, they explain, "A collaborative environment helped us, and the client, in coming up with a meaningful project that would benefit both the class in the form of written work to be used as portfolio material, and the client, with access to a talented pool of people to help increase awareness to their cause." As well, Storyworks in general has provided them with a range of opportunities. "The exposure to professional organizations where we can gain invaluable experience and training while building a network of professional contacts we can use as references has been really beneficial. We gain insight into the professional world of writing, and this helps build confidence in working and dealing with clients. Overall, Storyworks helps extend the students' expertise in addressing issues presented by the client," they explain.
Anthony Palma, Director of Operations at KITE, recognizes the importance of stories and the community, which go hand-in-hand when discussing the various elements that make up what KITE represents. He says that the ultimate purpose is to present care solutions to the people, and with that, carries the importance of KITE telling their stories. In reference to this, Anthony says stories are "a way for the community, such as the students in Storyworks, to know who KITE is from a different perspective and it helps raise awareness of what we do." He continues, "By partnering together with KITE, I want to celebrate the partnership, and we're helping each other out with that common goal to bring care to people."
Knowledge translation, which involves taking complex concepts and breaking them down to make them easier to understand, is an important component KITE is looking to incorporate into the stories they tell. Anthony says, "This collaboration allows us to fill that need on how to translate complex concepts to everyone so that they can understand them, and therefore, will raise awareness and then peak people's interests." Since the stories are a way to begin to explain what KITE does, clear messaging is important, especially since it can lead to funding opportunities or further partnerships with organizations that want to partner with KITE.  Ultimately, the underlying problem that KITE is looking to solve with this Storyworks partnership is the ability to translate these complex concepts, which makes it a communications project for the students to delve into.
Janitha Shanmugarajan, Operations Planning Coordinator at KITE, outlines the several deliverables which include: twelve individual stories written by the students; a final compilation that consists of all twelve stories, whether that's in a magazine format, or booklet format; and publication of the content on both the KITE and Centennial College website. At the beginning of this year, students chose their stories and began to write, while maintaining timelines for the clients to review their work.
Janitha praises the entire process, as she shares, "We love it. All of the students are very creative, and they inspire Anthony and I to get more creative. Every meeting that we are with them, we end up coming up with more ideas to grow KITE, and that's always a great thing."
KITE brings the exciting opportunity to students in various programs of working with a large-scale client on important projects. Anthony says, "One of the things we talked about early in our planning is that we have material for not only the writing class but all of the other Storyworks programs. We are looking at a long-term relationship of opportunity."
We are excited to continue this partnership with KITE and know that the invaluable learning opportunities being offered to students will greatly assist in their preparedness for their industry.
By: Alexandra Few - A 2020 graduate of the Communications – Professional Writing program at Centennial College who has first-hand experience with Storyworks and is an avid supporter of its push for experiential learning in the classroom.