Four secrets about a career in Pharmacy Tech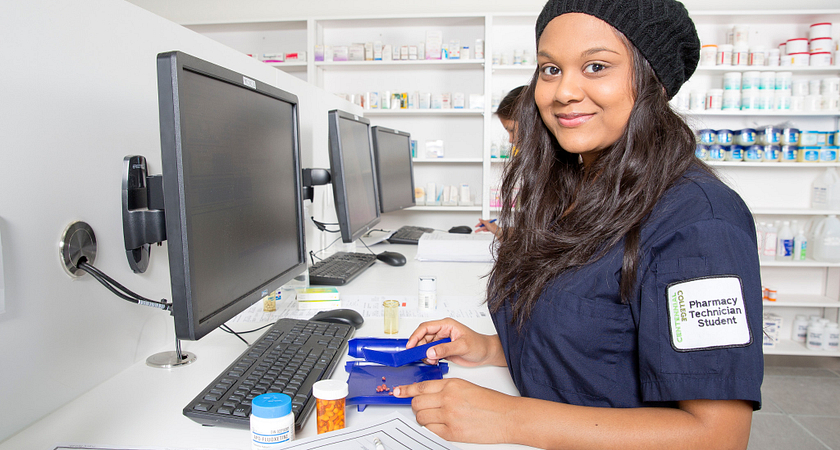 Getting a career in medicine could mean a lot of things, but one of the biggest reasons people get into it is they want to help people. One of the most important, yet under-appreciated parts of the healthcare system is the pharmacy. All of the doctors in the world can't help unless you can get your proper medications. The importance and demand for skilled pharmacy technicians is one of the best-kept secrets of the medical career field. Here's what you don't know, sourced from Jobs.ca, The National Association of Pharmacy Regulatory Authorities (NAPRA) and Snag.
1. There's more than just medical knowledge involved
As a pharmacy technician, you're working with a pharmacist to prepare and give out prescription medication. This means you'll need medical knowledge since you need to measure and mix medications, as well as clean and sterilize equipment. But there's more to it than that because there's more to the job than preparing medication. To be a successful Pharmacy technician, you also need to have customer service skills, be a good listener, pay attention to detail, and be organized. You also need some business skills to do things like handle billing or operate the cash register.
2. It's a career with a need for new talent
Over the next two decades, Canada's population will age, which means all healthcare professionals, including those in the pharmacy, will remain in high demand. But according to NAPRA, pharmacy technicians are expected to be particularly high demand. In other words, there are jobs out there waiting for you to fill them.
3. There's a big difference between a Pharmacy Assistant and a Pharmacy Technician
Pharmacy Assisting is an unregulated profession, so it's easier to get into. However, pharmacy assistants can't perform many of the duties performed by pharmacy technicians and earn less as a result. If you want to get that extra qualification (and the extra income that comes with it), you need to complete licensing exams to receive your professional registration. Luckily, in addition to the practical job experience, Centennial College's Pharmacy Technician program gives you the specific skills and expertise to complete those exams, so making that extra leap to true, accredited professional is easier than ever.
4. With a good college education, you can get into the career
Speaking of that education, Centennial College has a history of setting students up for pharmacy technician success. Take the story of Centennial College graduate Vincent Le, who now practices at both St. Michael's Hospital and the Centre for Addiction and Mental Health (CAMH), thanks to the College's dynamic curriculum, and the demand in the field clearing the way for his two jobs. And since there's such a demand for skilled practitioners, he gets to have two jobs. With the education Centennial College can give you, you can become a Pharmacy Technician, too.
By Anthony Geremia