Three great reasons to become an Aerospace Engineer at Centennial College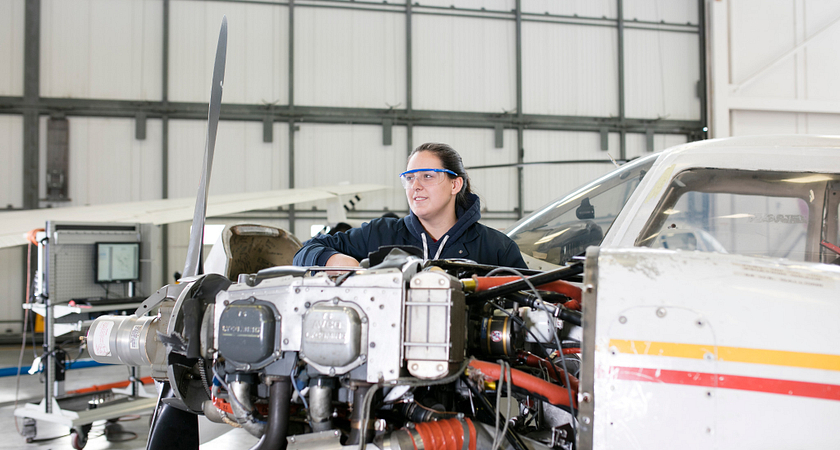 One of the many possible career paths you can enter at Centennial College is Transportation, which means more than just the vehicles that travel the roads of the world. You can also take to the skies with our aviation programs, including Aerospace Manufacturing Engineering Technology. Soon to be taught at our new Downsview campus. Here's why a career in Aerospace Engineering at Centennial College is a great career move.
1. It's a lucrative industry
The Canadian Aerospace Industry is growing, with $3.2 trillion in commercial aircraft and $661 in business aircraft expected to be ordered in the next 20 years. Back in 2013, the Aerospace Industries of Canada (AIAC) released a report about the state of the industry, taking about how Canada ranked extremely high in terms of research and development, earning over $42 billion in revenues, thanks to being a supplier of choice worldwide. According to Payscale, the average starting salary of an Aerospace employee is $72,000 annually. What this all comes down to is this: If you're in Canada, getting into Aerospace means getting into an expanding, promising, future-proof career, and it's something Centennial College can connect you with.
2. We'll have a brand new facility to teach you in
Until now, we've taught Aerospace students in hangers at Ashtonbee Campus. But starting January 2019, you'll be able to take classes at a brand new facility at Downsview Campus, a former military airbase we've taken over to teach a new generation of professionals. It includes a hanger that's big enough to include commercial jets, as well as working runways, along with classrooms, labs, workshops, offices and a library. We currently train about 300 students in our aircraft programs, but we'll now have room for 900. One of them could be you.
3. We'll put you to work with practical training
No matter the campus, top-tier instructors will give you the essential knowledge to launch your dreams. They will walk you through techniques as you work on components like airframes, engines, electrical and hydraulic systems, propellers, avionics equipment and aircraft instruments. You will also learn the essential theory and base of knowledge that will serve as a launching pad for a growing career. The program will simulate the workplace you'll start your career in, providing you with practical experience designing and creating Aerospace equipment.
By Anthony Geremia