How to land your first job in Electronics Engineering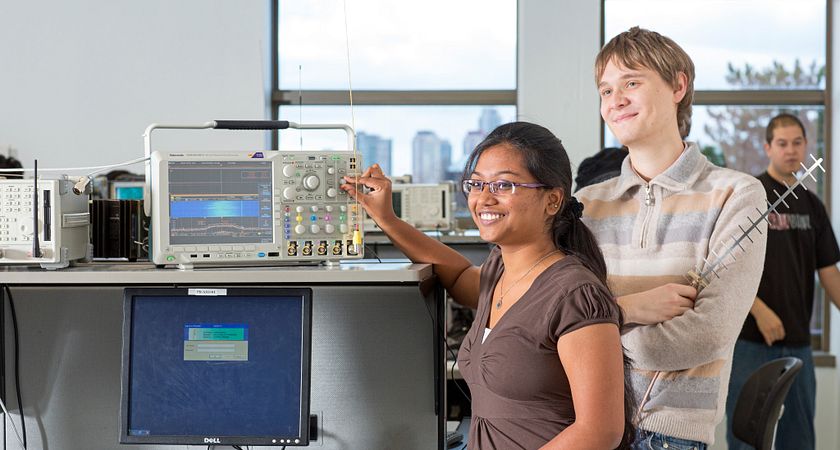 When you decided to pursue a career in electronics engineering, you consciously agreed to face the challenges that came along with it. You understood the road to becoming a successful electronic engineer is no walk in the park, but the ultimate payoff – landing your dream job as an electronics engineer – would be well worth your effort. Centennial College's Electronics Engineering Technician program in the past has produced such talented and remarkable engineers who are now employed in different companies across Canada and abroad. Electronics Engineering is one of the largest and fastest growing field of engineering and thus choosing the right specialization early on in your career is important, as it shapes the remainder of it.
The future of electronics engineering is looking bright, with the Canadian economy expected to produce about 9,100 job openings for electrical and electronic engineers annually over the period 2015-2024. The timing is perfect for young professionals to enter the job market and secure ideal jobs in the electronics engineering industry. Here are 4 tips that will give you a leg-up on your competition and help you to effectively climb your way up the career ladder.
1. Build a strong CV
As you progress through your electronics engineering program at college, participate in as many hands-on projects as possible, especially those outside the classroom. Future employers often look for both coursework and relevant experience in the field of work. While preparing your CV you may not have a lot of experience to put on it. So, focus on preparing one that showcases your skills and highlights your achievements and certifications. Include your employment history (if any), but don't make it the main focus of your CV. Even odd or unrelated jobs can prove to be valuable assets, if the skills used in the profession are transferrable to other industries. Generally speaking, your CV has only 30-40 seconds to grab the prospective employers' attention and your aim while building one must be to highlight keywords to boost interest of the employer and extend his attention span.
2. Get to know the business
Once of the best assets you can have while heading for an electronics engineering interview is, being able to speak confidently and with clarity about the current trends and future prospects of the industry. This helps you to paint a positive image on your potential employer. Now more than ever, you have access to overwhelming amounts of data. The best way to stay ahead in the game is by reading the latest news articles and research in respected industry publications, such as electrical engineering journals and leading blogs. Researching and learning more about the electrical engineering field, not only helps you effectively demonstrate your enthusiasm for the profession at the time of interview but also to identify the most promising avenues for employment.
3. Search for jobs on the right platform
With 91% of employers in the market using social media to hire talent, you should consider investing time on websites such as LinkedIn, Glassdoor, Indeed and EngineerJobs. These professional networking websites help to deliver your CV out there in the right hands. Sites like Quora are often made use by job seekers to spot companies that are doing well and are rated positively by their staff. CEO's, managers and even executives often publicly put in their own two cents on websites like LinkedIn or Quora about their organizational culture, work environment and job vacancies.
4. Network, network, network
Regardless of which stage of your career you're at, networking effectively is very important. Experts consistently say that networking is one of the most effective ways to land your first job in electronics engineering. Start by getting involved with associations and professional organizations in the industry. In the electronics engineering field, there are a multitude of associations related to the many sub-segments of the field. In addition to that, keep in touch with classmates, former colleagues and others in your field and, start attending events and conferences. In fact, almost least 70 percent of jobs are not even listed and to get them you need to network. So, never stop networking. There is an old saying, "It's not what you know, it's who you know that counts." 
If you are into electronics engineering, you should consider the Electronics Engineering Technician program at Centennial College. This program focuses on wireless communications, data communications, microcontrollers and industrial systems which helps students develop a solid foundation in modern electronics.
By Jerin Thomas