From Outer Space to Inner Space: Six of Canada's Most Famous Robots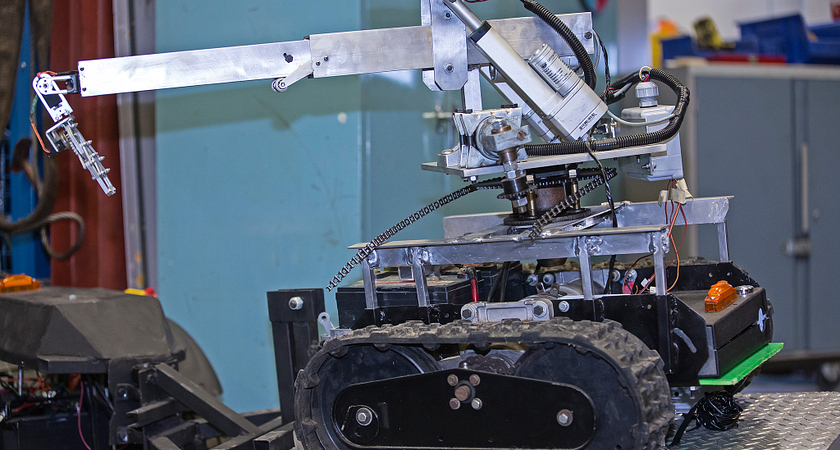 If machines fascinate you, and you love messing around with technology, then Automation and Robotics could be the career for you. You gain hands-on, practical experience with the tech world, learning to build and maintain automated, robotic systems, connecting you directly to the industry in this very country. In fact, Canada has a thriving robotics industry, and many of the most famous and inventive real-world robots have Canadian origins, many of which have taken to the stars. Here's the most famous robots Canada has produced, sourced from the Canada Space Agency. By acquiring a career in robotics through Centennial College, you'll become a part of the next generation of innovators, building on and improving creations like these.
The Canadarm
Also known as that thing that was on every U.S. space shuttle. Literally a gigantic robotic arm and hand, the Canadarm was used to grab and manipulate object during space missions. Its development was a collaboration between Canada and NASA, resulting in the arm first being deployed on the Space Shuttle Columbia in 1981. It would continue to be an essential part of shuttle missions for the next 30 years, being retired along with those shuttles after 90 flights. The legacy of the Canadarm lives on, though, and it was the jumping-off point for a number of innovations in Canadian robotics technology.
Canadarm 2
The most obvious advancement, of course, was the sequel product. The Canadarm2 was developed locally, in Brampton, Ontario, and was first deployed in the International Space Station (ISS) in 2001. The 17-meter-long arm was created to be bigger, more durable, stronger, and more mobile. In its permanent role on the ISS, it provides repairs and maintenance, moves equipment (and astronauts!) and performs something called "cosmic catches," where it physically grabs vehicles and connects them to the station.
The Mobile Base
It seems like we Canadians can't help but make robots specifically for space. Case and point: The Mobile Base, another attachment for the ISS that was built in Brampton, and added to the station in 2002. It's a movable work and storage platform that can move both the Canadarm 2 and Dextre (more on that one below), can transport astronauts on a spacewalk, and assist at any of the worksites on the space station.
Dextre
Another addition to our line of space robots, Dextre is the most advanced bot of its kind ever built. It's designed to maintain the exterior of the ISS, taking care of tough jobs in the harsh environment of space, so that astronauts can spend less time dangerously spacewalking, and more time working on experiments. Its seven-jointed arms are more versatile than a human's, and can grip delicate equipment without causing damage. Speaking of equipment, it comes preloaded with a motorized wrench, camera and power connector on each hand, used to replace and install equipment and test new tools.
neuroArm and IGAR
Canada's robotics industry doesn't just make space explorers. We've used our robotics tech for more earthly concerns, like the neuroArm, developed with the same technology, but used instead for performing surgeries that are difficult or impossible for human hands. The Image-Guided Autonomous Robot (IGAR) is another medical robot based on our space robot technology but designed to specifically assist in surgeries involving breast cancer, making them minimally invasive. It works in combination with an MRI scanner to detect suspicious lesions, which IGAR can then be programmed to seek out and remove.
By Anthony Geremia