What is an Electrician, Construction Maintenance Apprenticeship Program and Other Essential Questions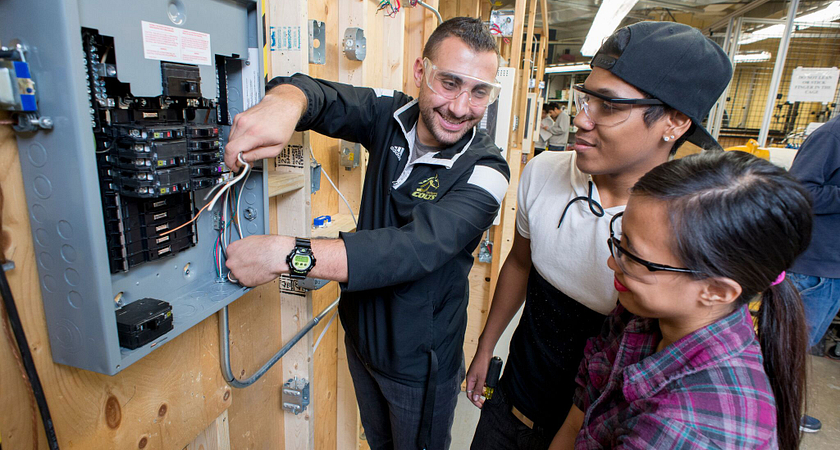 The world of wires and circuitry isn't just intriguing, it can also offer a viable career. The Electrician, Construction and Maintenance apprenticeship at Centennial College will allow you to be employed as an apprentice while simultaneously studying for a career that involves assembling, repairing, inspecting and testing electrical systems in settings that range from commercial to residential. In Ontario, the median pay for an electrician is $30 an hour and could go up to $45 an hour depending on factors such as work location, labour agreements and a number of employees available for projects, according to the Department of Employment.
What is an apprenticeship?
An apprenticeship is all about practicality. It bridges on-the-job training and in-school learning to give you a holistic overview of the trade. Through the help of an employer, you'll gain employable knowledge that's absolutely necessary for you to practice the trade, with the Ontario Apprenticeship Standard determining the skills you need to learn. At the same time, you'll gain valuable theoretical and practical lessons in the classroom. As you garner new skills and knowledge, your employer will sign off on the respective requirements you have met. Once you complete an apprenticeship, the Ministry of Labour, Training and Skills Development will issue an individual Certificate of Apprenticeship. Apprenticeships are a great way of getting well-paying jobs that demand elements of creativity, sound judgement and skill. Additionally, apprentices get paid while they work, and as their skill-set grows, so does their pay. Nearly 90 per cent of an apprentice's time is spent in the workplace.
What is on-the-job training vs. in-school learning?
If you want to learn by doing, on-the-job training is a great way to go. This approach to learning is particularly beneficial because you pick up new skills under the supervision of a trainer or skilled tradesperson, also known as a journeyperson. The journeyperson will sign off on the skills you learn while you work to qualify as a certified tradesperson. The in-school component is equally necessary to learn the more theoretical facets of the trade. Understanding the codes, legislation, regulations, trade communication and documentation and electrical theory demands a classroom setting. The knowledge you acquire in school will complement the real-life lessons you learn on the job.
What does the work landscape look like for an electrician in construction and maintenance?
The construction industry is expected to see a fair level of growth over the next few years across the province, and that means the demand for electricians in the construction and maintenance field is expected to remain healthy, according to the Department of Employment. Population growth is also helping to support the influx of residential projects such as condominiums across bigger Ontario cities and that is advantageous for future electricians in the construction and maintenance field. Meanwhile, growing demand for solar power will create employment opportunities for electricians to connect residences and businesses to alternative sources of energy. Additionally, massive transit projects across the province will help create opportunities for electricians to work on wiring and fixtures at terminals, stations and other supporting facilities, the Department of Employment stated. There are also construction projects in northern Ontario, where work has started to link First Nations communities to the province's power grid. This, in turn, means more employment opportunities for electricians in the construction and maintenance field.
Want a career with potential and demand?
Centennial College's Electrician, Construction Maintenance apprenticeship program will combine the best of hands-on training and in-class theoretical and practical studies at one of Ontario's largest trades training centres, Progress Campus, in order to prepare you to launch a rewarding career as an electrician.
Written by: Izabela Szydlo