High Flying Facts about an Aircraft or Avionics Maintenance and Management Career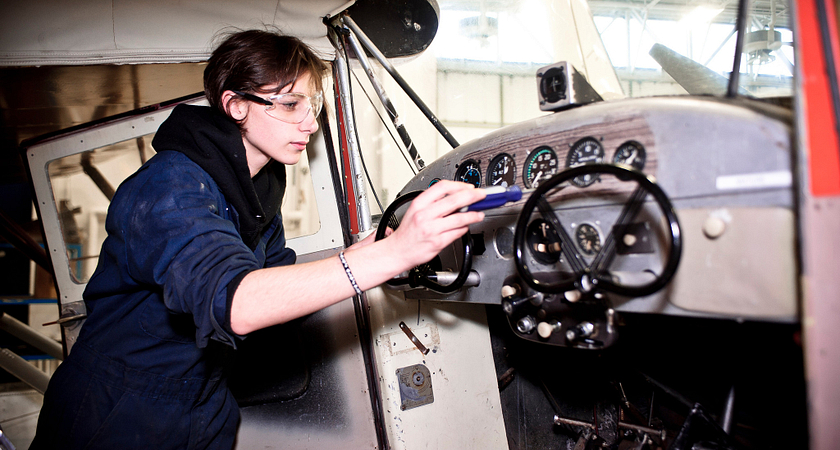 You don't have to be an aviation expert to know that aircrafts have a lot of moving parts. Those parts must always be in top working condition for airplanes to take to the skies. That's where aircraft maintenance and aviation maintenance professionals come in. While these two roles entail different duties, the professionals behind them have some things in common and work together to ensure the safety of planes that take people to destinations all over the world. Here's what you need to know about the fields of aviation technology (aircraft maintenance and management) and aviation technology (avionics maintenance and management).
What is aviation technology?
Aviation technology is the all-encompassing term of the field that concerns itself with areas that include everything from flight training and aircraft security to aircraft maintenance. Because this range opens up a diverse amount of career possibilities, you will want to truly consider what sparks your interest the most. Programs of study in maintenance and management, for example, may be further divided into avionics and aircraft maintenance and management.
What is avionics maintenance and management?
The complex electronic navigation, guidance and communications systems as well as the instrumentation and flight controls of an aircraft fall under avionics maintenance and management. That means professionals within in this scope of work are specialists who focus on the electronic components of aircraft. The skills required to succeed here are very technical, and according to ZipRecruiter, duties will include "performing manual testing of electronic instruments, using tools like circuit testers, voltmeters, and oscilloscopes, and identifying and fixing bugs in aviation software applications, radio communication systems, and navigational aids."
What is aircraft maintenance and management?
While avionics technicians take care of electronics, aircraft maintenance experts' tasks include troubleshooting aircraft structural, mechanical or hydraulic systems to identify problems;
repair and overhaul aircraft structural, mechanical or hydraulic systems; perform routine maintenance; and order and maintain inventory of parts and supplies. In addition to these really hands-on tasks, these professionals must also have knowledge of using technical documentation, ensure the working environment is ready for whatever operation is occurring, perform quality control processes and more.
What type of training is required?
In Canada, professionals in aviation technology must have, at minimum, a college advanced diploma and also become licensed by Transport Canada — the department within the Government of Canada responsible for developing regulations, policies and services of transportation in the country. Centennial College offers both aircraft and avionics-focused training through its Aviation Technology - Aircraft Maintenance & Management and its Aviation Technology - Avionics Maintenance & Management programs. Both offerings are three years in length and students learn in an impressive airplane hangar, working with real aircraft. Another similarity is the preparation the programs offer for students to obtain the Aircraft Maintenance Engineer (AME) Licence. With the licence's particular "rating", the scope of maintenance release privileges is determined — meaning that licence holders are allowed to only sign the maintenance release of certain certified aircraft. For example, with an M1 licence, a non-turbojet aircraft that's under 12,566 pounds. While the Centennial programs also share the same first semester, they then diverge into specialized topics.
What is the career outlook?
In 2016, a Global News article revealed that "a looming shortage of aircraft mechanics and pilots in Canada will be challenging for the aviation industry in the coming years." It quoted Transport Canada's licensing department as offering the statistic that 46 percent of aircraft mechanics are between the ages of 50 and 79 years old. In the article, the president of Saskatchewan Aviation Council, Janet Keim, said, "There's going to be a requirement for around a hundred thousand pilots and a hundred thousand technicians."
Written by: Izabela Szydlo
Resources
https://www.centennialcollege.ca/programs-courses/full-time/aviation-technology-aircraft-maintenance-mgmt/
https://www.centennialcollege.ca/programs-courses/full-time/aviation-technology-avionics-maintenance-mgmt/
https://www.ziprecruiter.com/e/What-Is-the-Difference-Between-an-Aircraft-Technician-and-an-Avionics-Technician
https://en.wikipedia.org/wiki/Aircraft_maintenance
https://www.esma.fr/formations/maintenance-aeronautique/fiche-metier-mecanicien-aeronautique/
https://www.tc.gc.ca/en/services/aviation/licensing-aircraft-maintenance-engineers/obtaining-licence/general-information.html
https://www.tc.gc.ca/en/services/aviation/licensing-aircraft-maintenance-engineers/obtaining-licence.html
https://en.wikipedia.org/wiki/Aircraft_maintenance_engineer_(Canada)
https://pwp.vpl.ca/siic/guides/aircraft-maintenance-engineers-technicians/
https://globalnews.ca/news/3111765/canada-faces-impending-shortage-of-aircraft-mechanics-and-pilots/