Watch the School of Transportation stay Cutting Edge at the Heavy Duty Equipment Show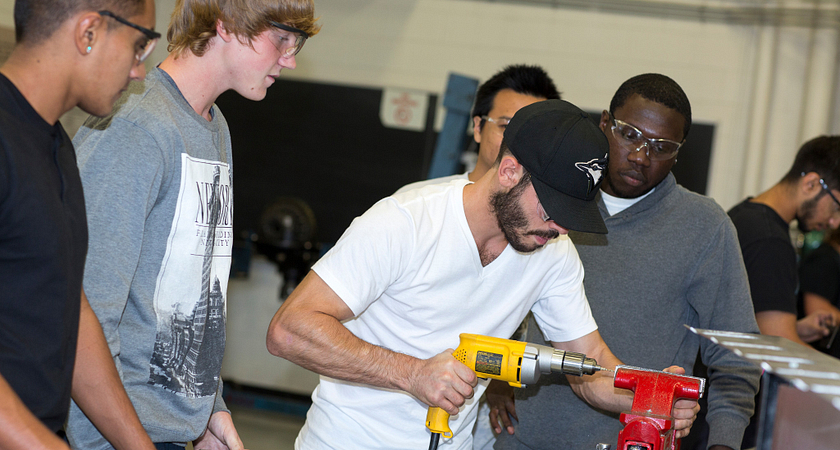 The National Heavy Duty Equipment Show happens every two years at the International Centre in Toronto, and is a major event for Canada's heavy duty equipment industry, which creates the gigantic vehicles used for construction, farming, mining and anything else that needs powerful specialty equipment. Of course, that equipment needs trained technicians to maintain it, and Centennial College's Heavy Duty Equipment programs train students to become those experts. An important part of these programs is industry connections, both to provide students with pathways to employment and to keep the program up to date, and so the College was at the show, to make sure that our programs are the best they can be.
Centennial's School of Transportation attends the Heavy Duty Equipment Show to connect with the industry, and stay on top of what's new when it comes to the latest equipment and innovations in the field. Hundreds of exhibitors show off the newest innovations in the Heavy Duty industry at the show, and we're there to make connections with those exhibitors, make them into industry partners for our programs, and even to recruit professionals for our program advisory committee, which makes sure our Heavy Duty Equipment programs stay up to date. Another reason is ensuring our students have a pathway to employment after they graduate.
"We have people come up to the booth and say, hey, do you have any graduates? Because they're looking for technicians," says Sean Squires, chair of the School of Transportation. "Currently, in the heavy duty equipment field, there is a huge demand for qualified technicians. In the next five years, there's going to be a shortage of 25,000 technicians in the heavy duty equipment field. There's a huge opportunity for employment."
Of course, the College is also there to promote their programs potential students, to let them know they can become qualified technicians. And those students don't have to be young, either.
"Industry people come through and say, I've got employees that should come to your program to become a certified technician," Sean adds.
Mechanics Hub, a placement agency for transportation pros, was also at the show. They interviewed David Greedy, a professor, George Williams, a second-year student, and Indira Singh, a recruitment officer. Watch this video to hear what they had to say about our Heavy Duty Equipment programs.
By Anthony Geremia