Four big reasons you want a career in Aviation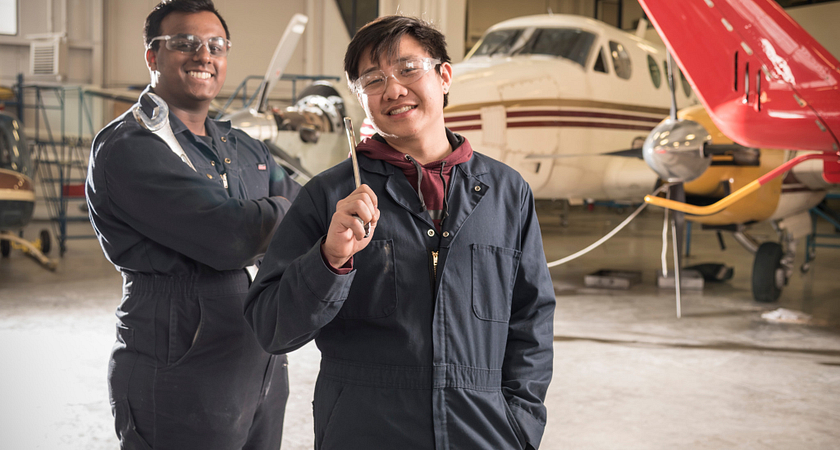 When you're deciding your career path, you want to pick something that uses your skills. You also want a career that has a future, and a demand for new workers. If you're good with technology, and like working with your hands, a career in the aviation industry could be what you need. It's a career with variety and demand, as you help build, manage, and repair the machines that put us in the air. It's also a career you can get into with Centennial College, through programs like Aviation Technician – Aircraft Maintenance, and Aerospace Manufacturing Engineering Technician. Here's a bit more about why these careers might be for you.
1. There's a growing demand
In order to work in a career you love, you'll need to pick one where there's room for you to get hired. In Canada, there's a shortage of aviation personnel, thanks to the fact that the industry is growing. This means that employers looking for new, educated talent, and getting trained by a college program will turn you into exactly what they're looking for.
2. It's a huge industry in Canada
You might think to yourself, how many airplanes can we build in a year? It turns out that we build, maintain and repair enough of them to support 190,000 jobs that bring $25 billion to the economy, according to the Aerospace Industries Association of Canada. This means we need engineers and technicians, which is why the industry is so huge, which is why, with the right training, there's room for you in it.
3. There's a lot of different careers
While Centennial College's aviation programs teach you about the engineering and technology behind aircraft, there's a lot of different ways you can go when it comes to the exact job you'll have. The Government of Canada has two examples of the jobs you could be working: As an Aircraft Maintenance Engineer, you'd be taking care of the everyday maintenance of aircraft and aviation systems, including inspecting and repairing problems. Meanwhile, as an Aerospace Engineer, you'd be working behind the scenes, helping design, develop and analyze new kinds of flight systems. Those are just two examples of the kinds of jobs you could have in the aviation industry, meaning that you've got space to pick the job that fits you best. Remember: These are highly skilled jobs that pay very well.
4. We can give you a way in
There's two ways to make sure you get into a career: You have a lot of practical experience, and you have industry connections. You can get both of those things in Centennial College's aviation programs, which are taught at our brand-new Downsview Campus. You get hands-on time with a real fleet of aircraft, learning how they work up-close and personal. You're taught by industry professionals, and shown the way to get hired as soon as you graduate. So, it's not just a career with plenty of opportunities and a lot of variety, it's also a career you can easily get into, thanks to Centennial College.
By: Anthony Geremia