Keep those mighty machines moving as a Heavy Duty Equipment Technician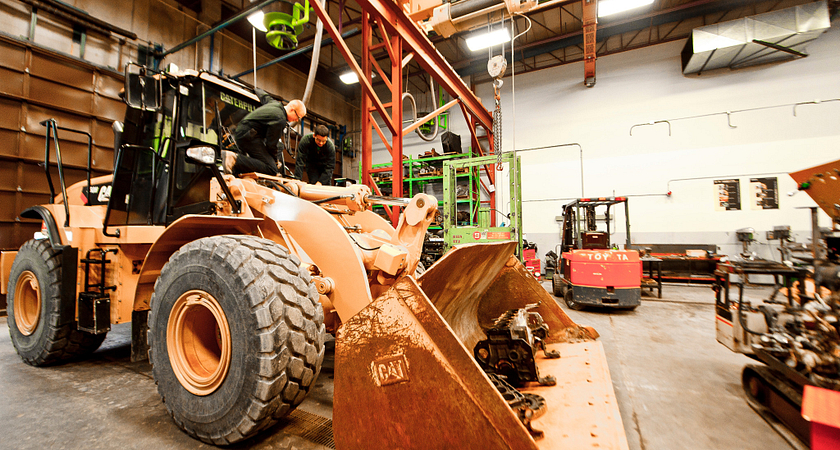 Like many other countries, Canada relies on farming, construction, mining and other industries powered by gigantic vehicles in order to keep the economy going. And since everything breaks sooner or later, those essential industries rely on people to maintain and repair those vehicles. That's where you could potentially come in, with a career as a Heavy Duty Equipment Technician. Here's what you need to know about the career, and how to get it.
What does a Heavy Duty Equipment Technician do?
According to the Ontario College of Trades, as a Heavy Duty Equipment Technician, you're working specifically on big vehicles used for industry, construction, forestry and landscaping, like bulldozers and mining trucks. Your job is to inspect, diagnose and repair these powerful machines.
Is it a career with a future?
According to the Government of Canada's Job Bank, there's expected to be shortages of qualified Heavy Equipment Technicians in the future, meaning employers are going to be actively trying to hire you, once you have the skills. They even cite Ontario as a particularly good place to work in the field.
How can I become a Heavy Duty Equipment Technician?
Centennial College's Heavy Duty Equipment program trains students to become these in-demand experts. This two-year program gives you the know-how you need through practical experience and a co-op placement. For more information, we talked to Angelo Spano, the program's coordinator.
What sort of things does a student in this program learn?
"The program follows the Heavy Duty Equipment Technician curriculum, which is an apprenticeship trade," Angelo says. What this means is that you learn about the core subjects of machine systems, and how to repair and service them, including trade practices, engine systems, electrical systems, fuel systems, brake and steering systems, and more.
What makes this program unique?
"Because the program follows the apprenticeship curriculum and is recognized by the Ministry of Apprenticeship," Angelo says. "Students are accredited for Level 1 and 2 of the apprenticeship in-school portion. This allows them to hit the floor running, which our partners value."
In other words, you can graduate with the credit of the early parts of an apprenticeship already, putting you above the crowd of other recent graduates.
What sort of industry connections does this program have?
Our program's sponsors include Toromont CAT (Caterpillar Equipment Dealer for Eastern Canada), Brandt Tractor (John Deere Dealer for Canada) and Strongco Equipment (Volvo Equipment Dealer for Ontario). These partners make sure what you're learning is the most up-to date technology, while also helping give you a clear path to employment.
"Program sponsors source our program for apprentice technicians for their shops every year," Angelo says. "Our Co-op Coordinators do a fantastic job staying connected to our industry partners, organising job fairs, which are meet-and-greet events where students and industry can exchange resumes and discuss employment opportunities."
What sort of career can a student get from graduating from this program?
Most of our students are looking for a career as a Heavy Equipment Technician," Angelo says, "repairing all forms of equipment, from construction, mining, forestry and rental equipment. Many move on to become shop supervisors and managers, as well as parts department personnel. Some start their own businesses repairing the equipment."
What's an average workday like for a graduate of this program?
"Most shops work from 44 to 50 hours per week," Angelo says. "Repairing equipment is very diversified, everything from repairing undercarriage tracks to rebuilding engines, transmissions. Troubleshooting hydraulic and electrical problems and replacing hydraulic hoses to doing regular services on machines. Some of this work is done on-site or in a shop environment."
It's a career with variety, with purpose, one that's got vacancies that need filling, and one we can easily connect you to with our Heavy Duty Equipment program. If that's what you're after in life, we can help you put it in motion!
Written by: Jennifer Francis