QUESTIONS
P.O. Box 631 Station A
Toronto, ON, M1K 5E9
Convocation
Convocation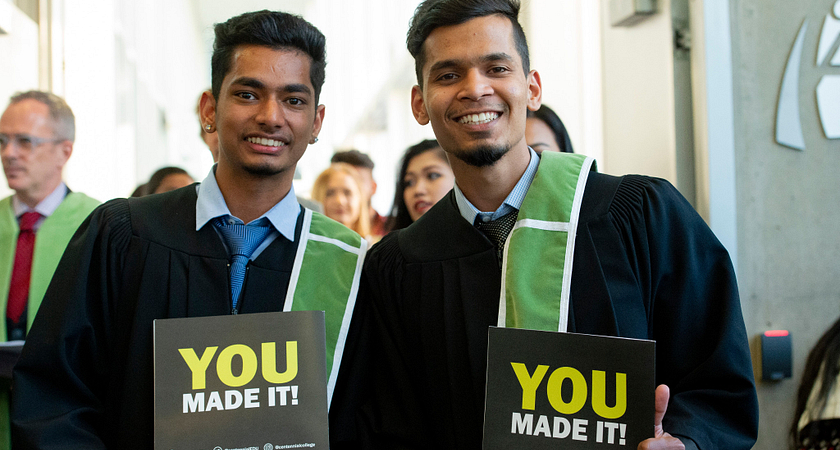 Convocation Ceremony Live Broadcast
Each convocation ceremony will be broadcasted live on the Centennial College website. Visit either the Centennial College homepage or the Convocation Ceremonies Schedule to watch the ceremony you wish to view. This is a great way for family and friends to watch your special moment anywhere around the world – near or far!
If you're having trouble viewing a live broadcast, please review Mediasite's Viewing Requirements.
Past Convocation Ceremony Live Streams
Apply to Graduate
All students who are intending to graduate must complete an Application to Graduate form. This can be accessed through your myCentennial portal. Deadline for applications is March 19, 2019.
Are you cleared to Graduate?
Students who have completed programs in Summer (August 2018) and Fall (December 2018) and who applied to graduate will be sent letters and an email to your myCentennial email at the beginning of May. This letter indicates your graduation status and information about Convocation Guest Tickets.
Students who have completed programs in Winter (April 2019) and have applied to graduate will have their student records reviewed and cleared to graduate during the month of May. You will receive an email to your myCentennial email address starting the week of May 21, 2019, right through until Convocation begins. This email indicates your graduation status.
If you want to check to see if you are ready to graduate or what you have, outstanding in order to graduate you can perform a "Degree Audit" from your myCentennial portal.
Convocation Guest Tickets
The link to claim your two guest tickets will be sent to your myCentennial email address. Graduates will be able to claim their guest tickets and either print them for their guests or forward them by email.
Graduates from the Summer (August 2018) and Fall (2018) semesters will receive their emails starting on May 3, 2019, to their myCentennial email address.
Graduates from the Winter (April 2019) semester will receive their guest ticket email starting on May 15, 2019. Please note that just because you receive a guest ticket email, this email is not a confirmation that you have been cleared to graduate.
All graduates have until May 30, 2019, to claim their two guest tickets. Starting May 31, 2019, we will release any unclaimed tickets so that all graduates have the opportunity for an additional ticket if they are available.
The following Ceremonies do not have any additional tickets remaining
Ceremony 6 – June 7 – 9:30 AM
Ceremony 7 – June 7 – 2:00 PM
Ceremony 8 – June 10 – 9:30 AM
Ceremony 9 – June 10 – 2:00 PM
Ceremony 10 – June11 – 9:30 AM
Ceremony 16 – June 16 – 9:30 AM
Ceremony 1 – June 5 – 9:30 AM has a limited number of additional tickets remaining.
On the day of the ceremony
Guest ticket bar codes can be presented electronically or in a printed form. Please take note of the following:
Each ticket has a unique bar code. Duplicate tickets will be declined at the door.
Tickets are required for each guest, including children, to enter the Convocation Ceremony. Graduates do not require a ticket.
Tickets are limited to two guests per graduate.
Seating is on a first come first seated basis. Once the gym reaches capacity remaining ticket holders will be seated in overflow viewing rooms.
Seating begins 30 minutes prior to the start of each ceremony.
Seating areas can accommodate a wheelchair or walker.
All ceremonies are closed-captioned.
Note: Please log into your myCentennial portal and check your myCentennial email directly from the portal and check both your Inbox and Junk Mail box for the guest ticket link.
Congratulations, you're ready to graduate!
Receiving your degree, diploma or certificate means you have successfully completed a prescribed program of instruction and been approved for graduation by the College Board of Governors. Click here for information about your Convocation Day.
Nominate a 2019 graduate for the President's Award & Citizenship Award by May 17.
Convocation Ceremonies Schedule
The Centennial College Convocation Ceremonies for 2019 will be held from June at the Progress Campus. The dates for Convocation are:
Wednesday, June 5
Thursday, June 6
Friday, June 7
Monday, June 10
Tuesday, June 11
Wednesday, June 12
Thursday, June 13
View the full Convocation Ceremony Schedule.
Driving to Convocation? Complimentary parking is available in the parking lots 2, 3, 4, 5, 6 and T building parking Lot at Progress Campus. Security staff and signage will direct you to a lot with parking available. We encourage graduates and guests to carpool or use transit if possible.
Ready, set, graduate!