Behind The Models and Designers: Jobs in Fashion Business and Management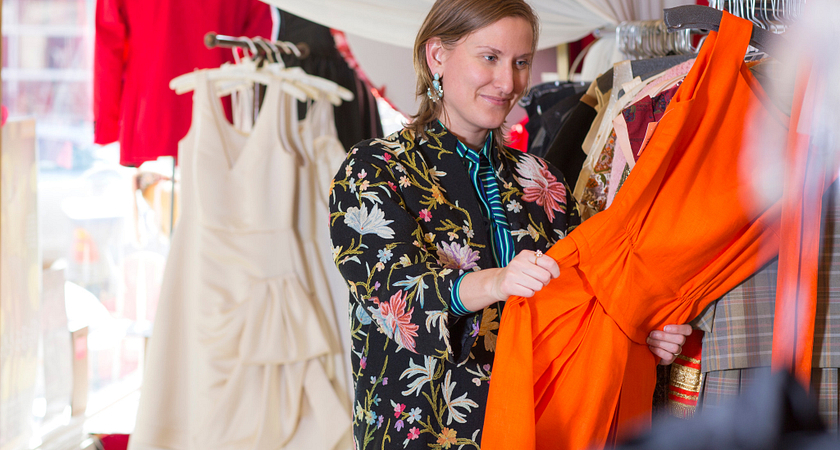 As the models strutted their stuff down the catwalks of Paris, London and other cities, fashionistas, stylists and professionals working in Fashion Business and Management looked on to see what would be big in 2019. But while we are all familiar with the glitz and glamour of Fashion Week, with its well-known designers and models, we are likely less familiar with the behind-the-scenes players — without whom there would be no fashion industry.
That's exactly where Centennial College's Fashion Business and Management program comes in: to equip students to be business leaders in the fashion industry by teaching them everything from the design and manufacturing process. To ethical and sustainable practices and marketing strategies based on contemporary consumer psychology. These students go on to have a huge range of careers, which include: product developer/manager, stylist, visual merchandiser, retail analyst, supply chain coordinator, fashion digital media planner. Let's take a more in-depth look at some of these roles.
Visual Merchandiser
Fashion is all about aesthetics — from the runways to the models to the store displays. At the essence of a visual merchandiser's work is promoting the image, products and services of retail businesses. These professionals use creativity and their design skills to build those eye-catching displays that make you want to wander into the store, and they also play a role in the store layout, which is crucial. Their jobs will vary depending on the size of the company for which they work and they might even have an entire display team working for them as they promote special offers, decide how to use the space and even lighting creatively source display materials, create visual plans and more.
Retail Analyst
When the runway lights fade and the models go home, at the end of the day, fashion is a business. That's why retail analysts have the very important task of reviewing the financial performance of the company they work for. These professionals employ two types of data in their job: quantitative and qualitative. The first is used to review the sector and compare the financial results of one firm with its peers. It may answer questions such as, "How well will this company do given the unemployment rate?" Since data such as unemployment rates are widely available though, retail analysts conduct additional research through store visits, the study of customer behaviour, and interviews with executives or lenders (qualitative data). 
Omni-Channel Merchandiser
To understand this role, we first have to understand what omni-channel retailing is. Essentially, it extends the shopping experience from brick-and-mortar locations to mobile, e-commerce, onsite storefronts, social media, and it's fully integrated to provide shoppers with a seamless experience. Omni-Channel Merchandisers then are responsible for personalization in a mass industry by integrating information across all channels so that they can develop customer insights and transform those insights into growth strategies, according to RisNews. This is achieved by working with internal and external partners to build seasonal assortment, create buy plans, manage in-season sales performance, and analyze go-forward strategy for business goals.
Written by: Izabela Szydlo