Everything for Digital Marketing Success in One Place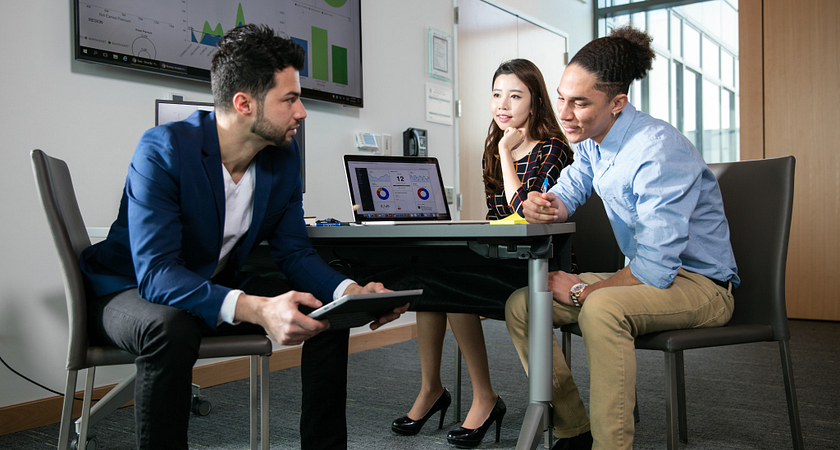 Social media influencers. It's a title that didn't exist a few years ago and today can't be avoided. These people, with mass amounts of social media followers, exist in every facet of the business from personal training to fashion and makeup, and influence buying trends. But while we all know that when Kim Kardashian posts a product on her Instagram its sales will increase, there's a lot more that goes into the type of marketing to which influencers belong, which is known as digital marketing. Digital engagement strategy is the way in which companies analyze trends in technology, derive insights from data, design content management strategies, and execute plans across paid, owned and earned media. It's a powerful tool in today's increasingly online world, where customers want to connect with brands in an authentic way.
At Centennial College, students are learning to navigate this segment of the industry in the Marketing - Digital Engagement Strategy program, which teaches them to develop and evaluate digital marketing strategies to maximize customer engagement and create meaningful interactions in support of business growth. And while some college programs only require graduates to have a college diploma, advanced diploma or another such credential to be noticed by employers, this area of business requires more. That's because companies that heavily influence digital marketing, such as Google, have created their own platforms and programs that marketers can use to promote their products or services. The Digital Engagement Strategy program has integrated training for these programs and platforms to give students the latest knowledge for success. Here's a look at what's on offer.
Google Ads
The basis of this system is a combination of cookies and keywords determined by advertisers. Google uses these characteristics to place advertising copy on pages where it thinks it might be relevant. Advertisers pay when users interrupt their browsing to click on the ad copy. Partner, websites, meanwhile, receive a portion of the generated income. With Google Ads, there are a range of services and features such as Keyword Planner (a free tool that provides data around Google's search queries), AdWords Express (aimed at small businesses, it reduces the difficulty of management campaigns by automatically managing keywords and ad placement), Google Partners (a partner certification program that requires clients to pass the Google Ads Fundamentals exam and one of the other Advanced AdWords exams such as Search Advertising, Display Advertising or Google Analytics).
Google Analytics
Analytics is a major buzzword when it comes to data. Companies mine and use data to make informed business decisions. Google Analytics is actually the most widely used web analytics service. It tracks and reports website traffic. Because it can be integrated with Google Ads, Analytics also allows for campaign reviews and goals and identifying poorly performing pages. To help people familiarize themselves with the platform, Google offers free Google Analytics IQ Lessons, Google Analytics certification test, free Help Center FAQ and Google Groups forum for official Google Analytics product support.
Facebook Blueprint certification
Centennial's program prepares you for this certification, which AdEspresso calls the marketer's black belt. That's because the certifications allow you to stand out and demonstrate your expertise in advertising across all of Facebook's products (think Facebook, Instagram, and Messenger). To become familiar with the platform, you can complete two certifications in planning and in buying. To do so, you have to pass proctored exams that test advanced proficiency in the skills Facebook deems necessary for advertising on its platforms such as developing strategy, tracking and reporting, measuring performance and troubleshooting.
Online Marketing Certified Professional (OMCP) designation
Through the College's program, you can take the skills you've learned and convert them to professional development unit credits towards an OMCP designation. This is the industry's premier certification for marketing professionals with verified experience, extensive training, and demonstrated knowledge of online marketing concepts and best practices across multiple digital marketing disciplines. There are two levels of OCMP certification and exam standards are derived through things such as role description studies and polls of hiring managers. A wide range of practitioners, author-experts and educators audit the exams.
Written by: Izabela Szydlo
Resources:
https://www.centennialcollege.ca/programs-courses/full-time/marketing-digital-engagement-strategy/
https://www.digitalengagement.info/what/
https://en.wikipedia.org/wiki/Digital_marketing#Latest_developments_and_strategies
https://en.wikipedia.org/wiki/Google_Ads
https://en.wikipedia.org/wiki/Google_Analytics
https://marketingplatform.google.com/about/analytics/
https://adespresso.com/blog/facebook-blueprint-certification/
https://omcp.org/