Five ways to be the best legal administrative assistant you can be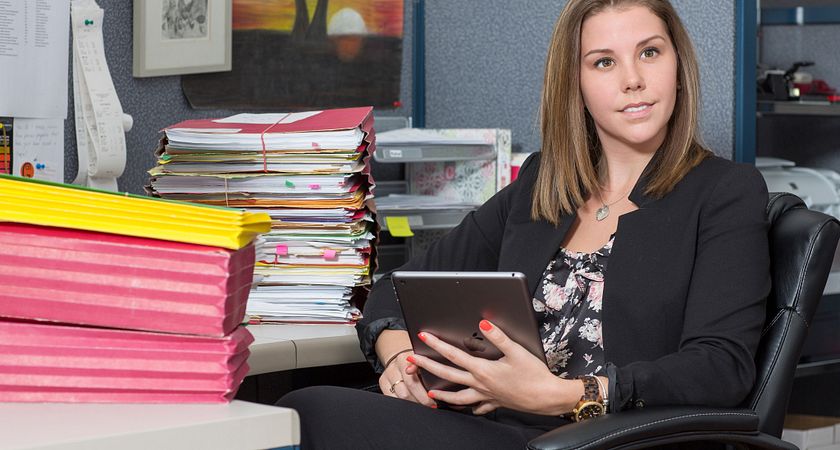 In Centennial College's Office administration – Legal program, you get to see the entire process of the legal system unfold. The program covers everything from legal office environments, building an understanding of current issues in Canadian law, specialized areas of practice such as family law, real estate and wills, and the use of specialized legal software.
There are many career paths that you can follow, and the program offers you the essential skills you need to get one of those careers. The most common career path taken is becoming a legal administrative assistant.
A legal administrative assistant, otherwise known as a legal secretary, is a position that is similar to a paralegal, and more than an average secretary role. It consists of typical secretarial duties, as well as file maintenance, drafting basic correspondence and specialized skills unique to the legal profession. Administrative assistants work with lawyers and paralegals, helping them with tasks such as research, correspondence and filing.  Typically, this role will also include some paralegal work, such as document research. They will also maintain schedules for appointments, meetings and cases. This can be in a law office, legal department, real estate companies or other types of legal offices. Basically, they handle the day-to-day running of the office. From this, the most common career paths are legal assistant, paralegal and administrative assistant. According to the balance careers and R. Johnson, here are some core tips for doing your best as a legal administrative assistant, to make sure you get on that career path.
1. Be a self-starter/ take initiative
In order to do this type of job effectively, administrative assistants must possess a drive to do the work and show initiative to do the best. Being a self-starter means that assistants do not wait for an attorney's instructions on what to do. Instead, they stay on top of their work and pursue what needs to be done without the direction of others. This means anticipating the attorney's needs.
2. Be efficient
Being efficient is a great skill to have in any workplace. As an administrative assistant, it is even more valuable, as it helps yield cost-savings for the employer and makes them an essential part of the company. Being quick and efficient in your work will always yield good results.
3. Know your workspace
Whether you work in a law firm or a law department, it is important to know the history of the workplace, including its ins and outs. Administrative assistants will be helping with every aspect of the company, and therefore need to be able to recall all kinds of information.
4. Task Management
The law industry is fast-paced and requires you to take on many responsibilities, from calendar management to preparing documentation. It's important to be organized when in this type of position, as you need to manage time and tasks effectively. Because administrative assistants run the day-to-day administration of legal companies and make important decisions, they need to be on top of their game at all times.
5. Be reliable
As the right-hand person to the attorney, you need to be reliable, as that attorney is making important decisions on a daily basis. You need to be able and willing to do whatever the attorney needs for the case, whether that means staying late or delivering a document quickly.
Written by: Savanah Salazaar