How Co-op at Centennial College Connects You to Careers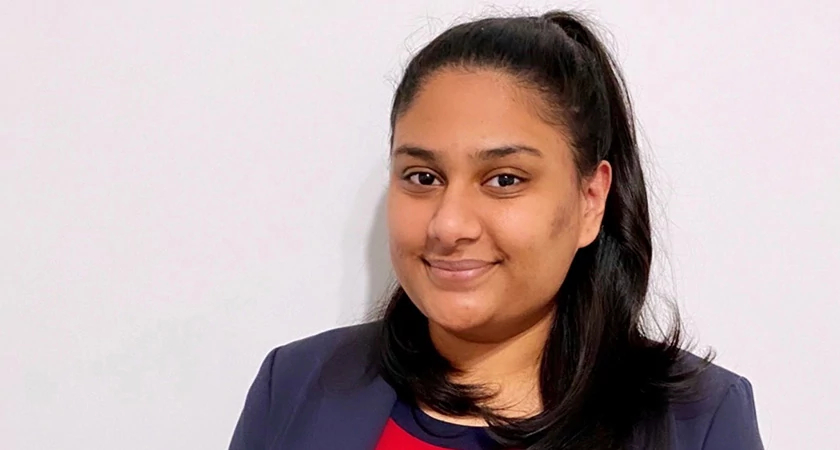 When it comes to turning your education into a career, it's the real-life experience that'll get you the job. That's what Reema Athia found out when she enrolled in our Business Administration – Human Resources Program, with its heavy focus on co-operative learning that takes you out of the classroom and into the workforce, letting you get a head start on your career while you're still in college. In fact, Reema's program and its co-op component would lead her to work with the Ministry of Children, Community and Social Services, opening doors to her future. Here's her story.
Choosing Her Path
Not every college student has a strong idea of where they want their career to go at first, and Reema was no exception.
"Truthfully, I had applied to many programs, and I was hesitant," Reema says. "I wasn't really sure what I wanted to do with my career, but I went forward with doing Human Resources, and really did enjoy it."
Preparing for Co-op
Co-op is a key part of the Human Resources program, and a lot of Reema's education was geared towards getting her ready for it.
"Prior to me doing co-op, we had many courses that prepared us," Reema says. "We had a co-op class that introduced us to what we'd be experiencing in the work field. Each course was straightforward and to the point as to what you'd be doing in the real world."
"With Human Resources, you have to constantly work with personal information," she says.
"Throughout the courses, we learned a lot about confidentiality and legislation, as well as key points that we need to keep in mind."
What it's like at a Co-op
Finally, it came time for Reema's co-op placement, which she took at the college itself. "I got an office assistant job with Centennial College," Reema says. "It's not exactly what my program was about, but I was able to really work my way in, and I made a really good impression on the people I worked with."
"Throughout that experience, I was able to work at several different parts of the college," she says, "so when I completed my placement at the School of Engineering Technology and Applied Science, they actually wanted me to stay on a little longer to help fill the placement of another student for a few weeks and work within the same department, but at the Progress Campus. I was also able to work with the International office due to networking with colleague from SETAS."
"I was able to do an eight-month term, and through that, I learned a lot of reception and office assistant duties," she says. "It was also one of my first jobs, so having that co-op opportunity really just gave me more confidence and helped me gain references, as well. Being able to talk to all of the professors, and work closely with them, really helped me to build connections and improve my communication skills."
From the College to the Ministry
Reema's co-op learning would then take her to her job at the Ministry of Children, Community and Social Services, working in the Family Responsibility Office.
"Honestly, it was a really big change," Reema says. "Working as an office assistant at Centennial College, I was working closely with students, and it involved a lot of their personal lives. But when I worked at the Ministry of Children, Community and Social Services, I was really working hands-on with people's lives."
"I was working with people's personal information through cases every day," she adds. "If there were any payments overdue, for example, I connected with clients. It was definitely a change from working with students to working with people with personal family issues."
"I was even able to have an amazing mentor when I was working at the Ministry," she says. "She was able to help me ground myself and become more confident in the role, because I was really in my head about getting into human resources, specifically. She told me you have to start somewhere, and working there is one step closer to being where I want to be."
After the Ministry
"I was 18 when I started my co-op placement," Reema says, "so I had no experience with work at all. It just gave me that work experience I needed, and since then, I've had interviews, and jobs, and it's all related back to that one co-op placement that I had."
"Having experience with co-op is one of the major reasons I get interviews," Reema says. "I've heard feedback from my employers that, that experience is what they focus on, because it means I could be an asset to their team."
An Open Mind
When Reema started her college journey, she didn't even know what program she wanted, much less what she wanted to be. In light of that, she advises students following in her footsteps to keep an open mind about where they can go.
"In my mind, I said I'm going to be in human resources," Reema says. "But through co-op, I also gained respect for being an office assistant and really enjoyed it. I learned different things and got a feel for it. All of my current experiences are also related back to my co-op." Regardless of anything else, she recommends all students take co-op programs, or seek them out if their program doesn't offer them.
"I've spoken to a lot of students, even when they came into the office at the School of Engineering Technology, and I tell them: if you have an opportunity to take co-op, take advantage of it," she says. "Co-op just helps you get a feel for the career you're going into. It's a great way to gain experience, it's hands-on, and you're going to work and learn everything that you're studying." "Centennial College inspired me," Reema says. "Having co-op experiences got my foot in the door. I was able to really connect with a lot of people and gain many resources."
By: Anthony Geremia