Safety Watch App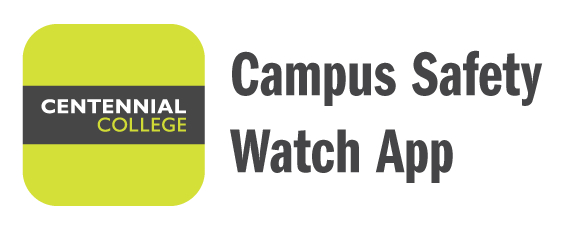 Download Now
In All Emergencies, Dial Ext. 2020 or 416-439-4357 (HELP)
General Service: 416-289-5000, Ext. 5240
Stop Bullying Now
When you walk through our campus doors at Centennial College, we want you to feel a sense of belonging.
Centennial is a safe place where students, employees and community members alike can learn and grow, not only from our teachings, but from one another as well.
Our community is one that welcomes everyone regardless of gender, age, religion, sexual orientation, economic status or race. We embrace diversity. We do not reject nor neglect it. In an environment that is enriched by diversity, respect, dignity and inclusion, we believe in exercising our human rights, not silencing it by bullying.
Creating a positive space is what we strive for on a daily basis. Centennial is a place where negativity and bullying by whomever will not be tolerated.
We are proud of our Anti-Bullying/Personal Harassment Prevention activities. These activities demonstrate our leadership in creating a safe and supportive environment.
If you or someone you know is being bullied. Take a stance. Report it!
On Bullying
Bullying is any abusive and discriminating behaviour, whether physical or verbal, that is directed to an individual or group of people.
3 Types of Bullying:
Bullying at work
Cyber Bullying
Bullying in school
Bullying in the Workplace
Bullying in the workplace can prove to be toxic to your work environment and can target anyone from management, employees, teachers and contractors here at Centennial.
Bullying in the workplace can be in the form of:
Gossip/rumors
Offensive jokes
Unwarranted punishment
Sabotage
Verbal/physical/emotional attacks
Embarrassing or demeaning people with words or gestures
Cyber Bullying
Cyber bullying involves hostile behaviour via chartrooms, social media sites, e-mail and/or text messaging. One of the worst aspects of cyber bullying is that it allows the bully to taunt and threaten without ever revealing their true identity. Cyber bullying involves violent language that can be extremely crude.
Bullying at School
Bullying at school is something that we hear about all too often. It is something that happens in elementary, high school and post-secondary education. Whether it is heard in the hallways or outside the campus, it is unwelcomed behaviour.

Such forms of bullying at school are through:
Insults/gossip
Threats
Stealing
Ignoring
Damaging property