QUESTIONS
P.O. Box 631 Station A
Toronto, ON, M1K 5E9
LEED Certifications and Sustainable Features
LEED Certifications and Sustainable Features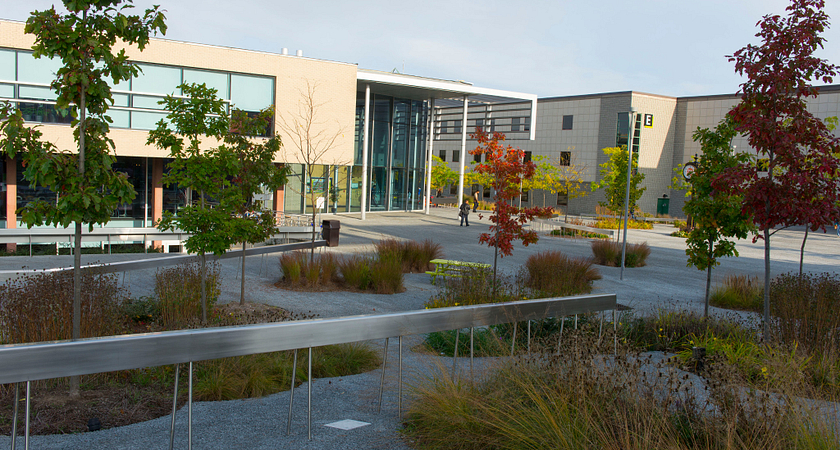 Centennial Residence and Culinary Arts Centre – LEED Silver Certification
This striking building takes the shape of a quadrangle with a central courtyard to allow natural light to reach all of the residence rooms. Housing up to 740 students in two- and four-bedroom arrangements, each suite includes its own kitchen and bathroom. Students also have access to communal kitchens and lounge spaces for larger social gatherings. Every resident has his or her own bedroom.
The building is also home to the School of Hospitality, Tourism and Culinary Arts programs, complete with seven kitchen labs, a teaching restaurant and nine new classrooms with capacity for up to 600 students. On the top floor, naturally-lit, multi-purpose rooms serve as our new Events Centre, which can accommodate up to 425 guests. The facility incorporates sustainable practices as they apply to the hospitality industry.
Progress Campus Library - LEED Gold Certification
The building comprises a library, lecture halls, classrooms, labs, a living green wall; and serves as the entryway for Progress Campus.
The cement mix used in the facility includes 40 % slag, a by-product of steel production.
Other eco-friendly construction practices include careful erosion and sediment control, recycled construction materials, diversion of construction waste away from landfills, a preference for materials manufactured within 800 km of the site and water-based adhesives and sealants.
The roof houses two gardens and rainwater from the roof is collected in cisterns and directed to the building's washrooms, where it is used in toilets and urinals.
The building's heating system uses extremely efficient hydronic radiant floor heating, hot water that's pumped through the concrete slab that forms each floor.
The building also has occupancy sensors in every room, which can detect a lack of movement in a classroom and turn off lights to conserve electricity.
Alumni Courtyard Sustainable Features
Located between the AWC and the new Library and Academic facility.
The paving was done using pervious concrete, a porous material that lets the groundwater pass through it into the soil, and thus eliminates the need for water retention ponds and storm-water sewers.
Plantings in the Courtyard are drought and salt resistant, reducing the amount of water needed for irrigation.
Exterior pathway lighting in the Courtyard uses energy-efficient LED lights.
Green Roofs
Centennial College has created a network of over 21,000 ft2 of green roof space, an important development feature that can be deployed to counteract the heat island effect, in which urban areas see significantly warmer temperatures than their surrounding rural areas due to human activity and less green space. Green roofs can reduce the need for cooling in the summer thereby reducing greenhouse gas emissions, they can sequester carbon, capture stormwater and reduce run-off, improve air quality, and create a habitat for pollinators, birds and other wildlife.
Our newly opened Downsview Aerospace Campus boasts approximately 15,000 ft2 of green roof space, which also proudly displays the Centennial College logo, visible by aircraft flying above!