QUESTIONS
P.O. Box 631 Station A
Toronto, ON, M1K 5E9
Transportation
Transportation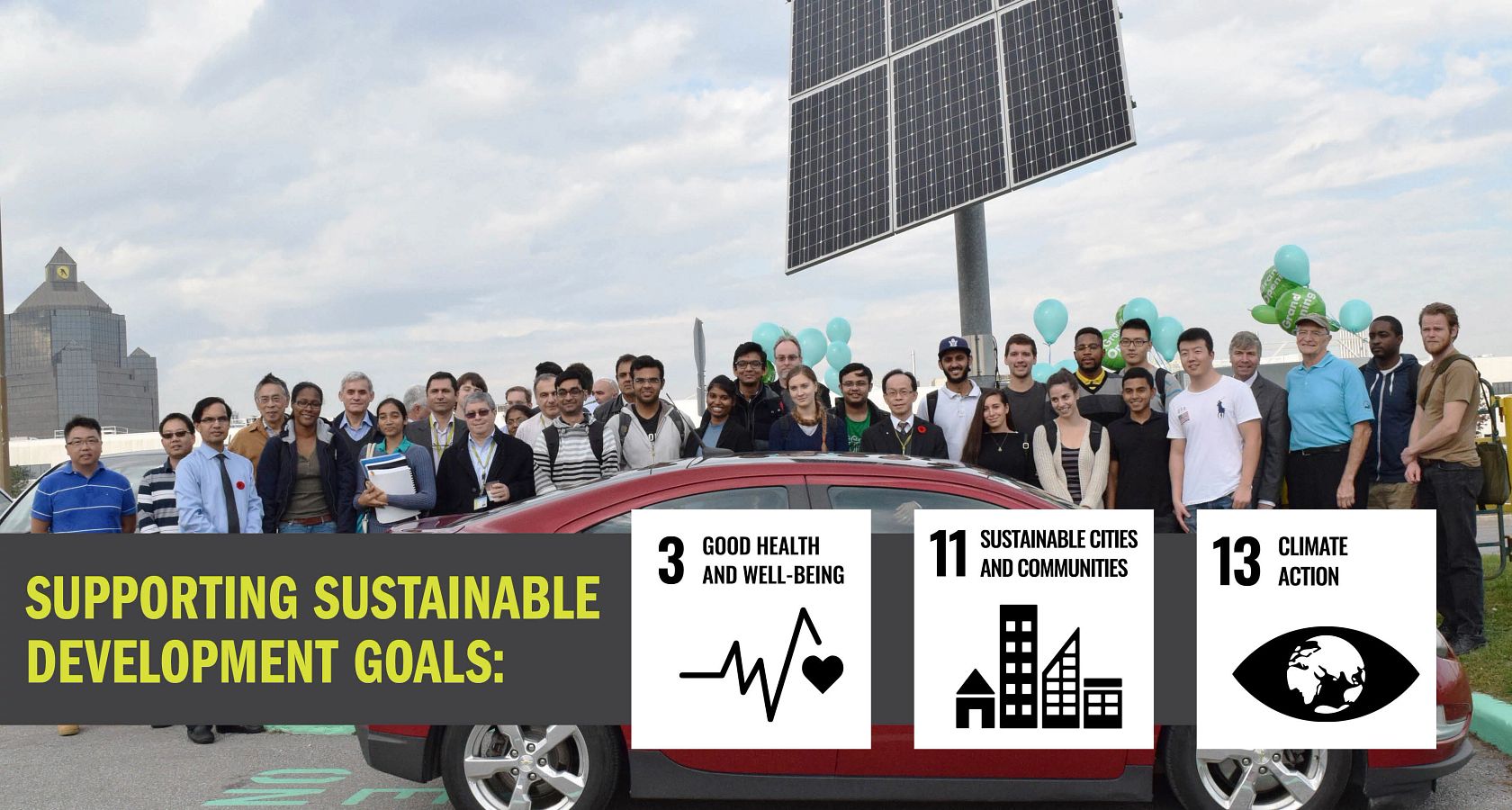 How We Support Sustainable Development
The Sustainable Development Goals (SDGs) are the world's blueprint for achieving a more sustainable and prosperous future for all, and Centennial is committed to turning these global goals into local business. By providing the tools for our college community to be able to choose cleaner forms of transportation (electric vehicle charge stations, carpooling, public transportation and biking), we are proud to contribute towards:
SDG 3: Ensure healthy lives and promote wellbeing for all at all ages;
SDG 11: Make cities and human settlements inclusive, safe, resilient and sustainable; and
SDG 13: Take urgent action to combat climate change and its impacts.
For more information about the SDGs, you can visit our Sustainable Development Strategy.
The average Centennial College commuter emits about half as much carbon emissions related to transportation than the average Canadian; with 42 % of employees and 74 % of students indicated that they chose alternatives forms of transportation instead of driving alone to Centennial campuses.
These sustainable choices save Toronto commuters a combined total of $55.5 million dollars annually in vehicle costs, safety benefits, road congestion reductions, and active transportation health benefits.
Our Transportation Initiatives:
Carpooling with Smart Commute
Smart Commute will support Centennial College staff and students to explore and try out smart travel options and provide tools to facilitate positive change in the Centennial Community. They offer a carpooling network for Centennial staff and students to connect with others looking to share the ride to any of the campuses.
Smart Commute Toronto is a program of the City of Toronto to help anyone who is going from A to B explore and try out smart travel options such as walking, cycling, transit and carpooling.  Their goal is to ease gridlock while helping you save time and money. They offer a carpooling network for Centennial commuters to connect with others looking to share the ride to any of the campuses. They can help connect commuters with transit trip planning and walking and biking routes through workshops, webinars and commuter advocacy. Keep an eye out for their commuter contests such as Carpool Week, Bike Month, and the Smart Commute Challenge.
Save on parking fees by carpooling! Search and match with carpool partners to campus on our Centennial carpool networks for faculty/staff or students. 
Calculate your potential savings with our Carpool Savings Calculator (and don't forget to add in your parking fees, too!)
Centennial campuses are well connected TTC, DRT, and GO transit, plan your transit trip here. 
Interested in cycling? Scarborough Cycles is another City of Toronto program that offers group rides, workshops and community hubs.
Zipcar
Zipcar is a car-sharing program, an alternative to car ownership that gives you wheels when you want them. Centennial College has partnered with Zipcar to offer its students, employees and alumni discounted yearly memberships! The vehicles are now located at Progress Campus Parking Lot 2 beside the Centennial Place residence building, Ashtonbee Campus in the Visitor's Parking area, Morningside Campus in Lot 1 at the 755 Morningside Avenue entrance adjacent to the campus, and the Story Arts Centre.
Centennial College students can join for only $20, while faculty, staff, and alumni can join Zipcar for $35. Gas, insurance, maintenance, and 200 kilometres/day are included in every reservation. As a Zipcar member, you'll have access to our vehicles 24/7.
How it Works
Join: Apply online by visiting Zipcar.com/cenntenial or use the appropriate link below – remember to use your Centennial College email address. Once you're approved, you'll receive your very own Zipcard in the mail within 3-7 business days.
Reserve: Once you have received and activated your Zipcard, you can reserve a Zipcar at any Zipcar location for an hour or an entire day - you decide how long.  Online reservations can be made by clicking this link or click here to download the mobile app.
Unlock: Walk to the car, and then just hold your Zipcard to the card reader on the front driver's side windshield. The doors will unlock, and it's all yours! Your Zipcard will only open the car you've reserved during the time you reserved it, which means no one else can open your Zipcar during that time.
Drive: Drive away, and then return the Zipcar to the same reserved parking spot at the end of your reservation. It's that simple. And remember, gas and insurance are included in the hourly rate. You just need to fill the tank using the Zipcar fuel card inside the car when it gets to a quarter tank.
Find out more about how Zipcar works by clicking here and six simple rules to follow.
Ready to Join?
Any 18+ students or 21+ faculty, staff, or community members can apply, so long as they are a licensed driver. This includes all international users, too. After the quick online application is completed, Zipcar runs a thorough driving record check.
Visit Zipcar's website to learn more about the program.
Additional information and promotions can also be found by following @ZipcarCanada on Twitter.
Electric Vehicle Charging Stations
Centennial College has a total of 47 electric vehicle (EV) charging stations at highly visible locations at four of our campus locations, which include Progress, Ashtonbee, Story Arts, and Morningside Campuses. In working with the faculty and students from our School of Engineering, Technology and Applied Science, 13 of our EV charging stations are now solar-powered, located in a dedicated covered carport prominently visible at our Progress campus in student parking lot #5.
Centennial College is actively seeking opportunities to implement EV charging stations at our Downsview Campus, and we are also investigating options to add fast-charging stations. All EV charging stations are free to use for staff and students!
If you have any general inquiries or questions regarding any of the initiatives above, please contact sustainability@centennialcollege.ca