Build your career at the School of Engineering Technology and Applied Science Technology Fair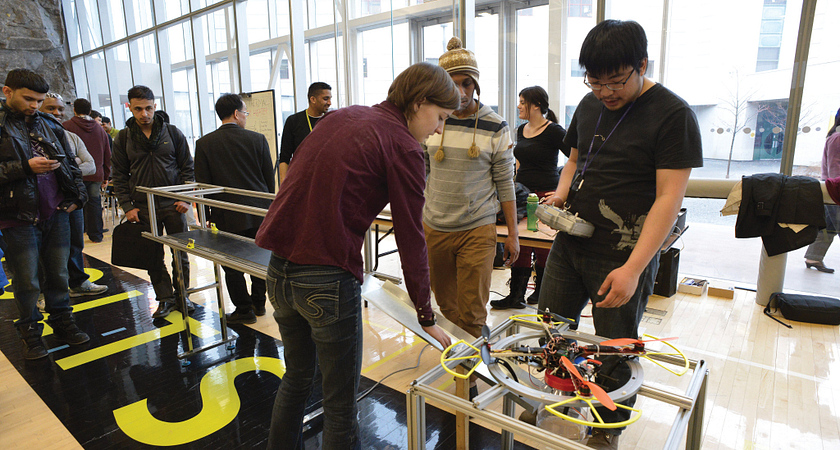 If you're a student in one of the programs in Centennial College's School of Engineering Technology and Applied Science (SETAS), then you're gaining practical experience working on the kinds of technology you want to build a career around, using the labs and facilities across our campuses.
As a part of this education, many of the school's engineering and technology programs feature capstone projects at the end, where students use the skills they've learned to put together a large, final project of their choice. Thanks to the education our students receive, we've seen some notable capstones over the years, our school holds a special event to both show them off, and help our students make career connections for their post-graduate life.
In April of each year, the School of Engineering Technology and Applied Science hosts two special events at Progress campus at the same time: A career fair through a collaboration between SETAS and the Career Centre, and a technology competition, organized by SETAS.
This year was the sixth annual fair, and if you take an engineering technology program at Centennial, you'll get to take part in it as well, making career connections and showing off what you've learned. You'll get to present your capstone, and have an opportunity to find a job before you even graduate.
Making career connections
The purpose of the career fair portion of the event was to connect students to jobs, coming at the perfect time, close to the end of a semester. Some 25 technology employers were present this year, ready to hire the newly-trained Centennial College graduates.
Showing their skills
Many of the programs in SETAS require students to complete a special capstone project at the end of the year, and a selection of the best ones were put into competition against each other at the technology fair, for the chance to win the Dean's trophy, a Stanley Cup-style trophy that has each winning team's names engraved, and gets passed around from department to department each year.
In total, over 50 capstone projects were presented at the fair. There was no set definition for what students could do, and every major area of SETAS was represented, including architecture, automotive, biotechnology, I.T., mechanical technology, robotics and software engineering. Experts from the companies represented at the fair were invited to judge all of the student entries.
The winners who took the trophy home this year were Deesha Daswani and Anushree Ranade, a pair of students in Centennial College's Applied Biological and Environmental Science programs, who developed a unique product: A 3D-printed plastic case for a toothbrush, designed using scientific studies, to keep microbes and bacteria out.
Taking one of our Biological. Environmental and Food Sciences programs means that you could become our next set of winners, and be connected to the same opportunities as these students, gaining practical experience you can turn into a successful career in the world of engineering and technology.
By: Anthony Geremia