How to become an award-winning chef at Centennial College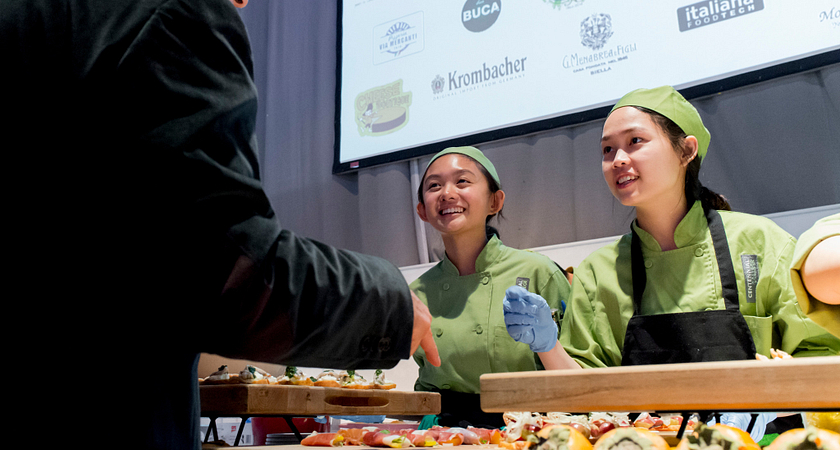 At Centennial College, we teach you real, hands-on career skills in the field of your choice, even when that field is preparing delicious food. Nothing proves it more than when our students put those skills to the test, and win. In October, an all-female team of students from our Culinary Management program earned a gold medal at the Taste Canada Awards banquet. Danielle Daza, Samantha Laval and Alexandra Zykova won against teams from nine other schools by preparing Seared Duck Breast with Fresh Horseradish and Sesame (read more about the competition here). Their win shows just how well the Culinary Management program prepared them, and can prepare you for a rewarding and tasty career too, with its focus on blending the art of cooking with team leadership and business management.
Culinary Arts lets you spread the happiness
Everyone likes good food. By getting a career in Culinary Management, you're spreading something good around. In fact, that's why Alexandra joined our Culinary Management program.
"I like feeding people, because food makes everybody happy," Alexandra says. "I chose this program because I want to make as many people happy as I can."
 "I enjoy cooking in general, but something about the culinary industry was very interesting to me," Danielle adds. "I chose Centennial because it just seemed special to me. Centennial's atmosphere seemed very friendly, forgiving of mistakes, and the staff seemed genuinely invested in ensuring students retained the information taught."
What makes our program special
In our Culinary Management program, you don't just learn about cooking. You also learn how to run things at a restaurant, from planning a menu to coordinating big events. When cooking, we also focus on using locally-sourced Ontario ingredients.
There are three things that set our program apart: Firstly, it's taught by experts, real chefs who have served in the industry. Secondly, you actually learn on your feet by cooking in our new Culinary Arts Centre, where we have real kitchen labs, and a functioning restaurant for you to practice with real customers. Finally, you put your skills to the test in the real world with a 14-week field placement with one of the school's partners.
"As a student who entered the program with no experience in the culinary industry, I very much appreciated how quickly and seamlessly the curriculum introduces new concepts and techniques without feeling daunting," Danielle says. "Every week would feel like a challenge, but not something we had not been prepared for. I also really like how much the syllabus covers, not only a diverse range of culinary techniques, but also other useful skills in our field that would be an asset in our industry, like basic baking techniques, hospitality practices and accounting."
"The chefs at Centennial College want to give us as much knowledge as possible," Alexandra says. "They always encourage us to volunteer and improve our skills, help to correct mistakes or show some tricks."
Winning the Contest
 The skills that the Taste Canada team picked up in the program directly translated to their victory at the Taste Canada awards, where they had to choose a recipe from a list of cookbooks, and reproduce it on-site, hence their duck-based dish.
"I think all the knowledge, skills and experience that I got at college and support of teachers and classmates helped us to get the gold medal at Taste Canada Awards," Alexandra says.
"Apart from learning about the culinary techniques and providing a better understanding of the industry," Danielle says, "the program gave me the skills and training to act fast and take initiative in stressful situations. I am a very demure person, but the program has helped me quickly adjust to the fast-paced nature of the kitchen, giving me the confidence and initiative I needed to help my teammates win."
Challenges and rewards
The whole team couldn't have gotten where they were without the Culinary Management Program, and their success means they have bright careers ahead of them. More importantly, they found the program and the competition to be rewarding experiences.
"Though I knew it would be hard at times," Danielle admits, "I find it fulfilling to see and taste the tangible results of my labour and to be able to share it with others."
By Anthony Geremia