Students create their own success: Jude Okolie and Salesblock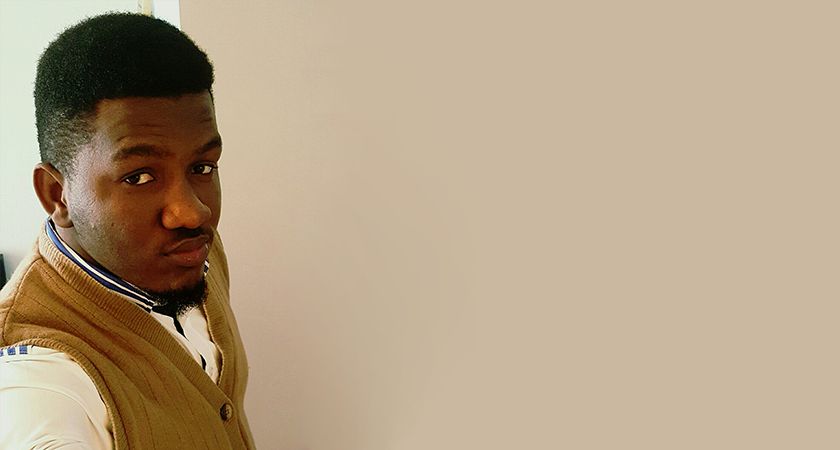 At Centennial, we encourage students to follow their entrepreneurial dreams, creating their own opportunities for themselves and others. But Jude Okolie wasn't just motivated by that. He also had a desire to make the financial life of students at the college a bit better. That's why he created Salesblock, a website specifically for college students to buy and sell textbooks, school supplies, and electronics. It was an idea he had while at Centennial, born out of a desire to help his fellow students acquire the tools for success faster, easier and cheaper. Here's the hows and whys of making it happen.
Student Entrepreneur
Jude is currently in his sixth semester of Energy Systems Engineering Technology at the college, to compliment the degree he already has in Mechanical Engineering.
"When I came to Centennial College, I wanted to do something mechanical," Jude says. "But then, I was confronted with this new booming technology of renewable energy, because that's the core path of the program."
So, how did someone studying engineering technology decide to create a website like Salesblock?
"I'm an engineering student, but I'm more of an entrepreneur than an engineer," Jude explains. "Engineering is more static, entrepreneurship is more dynamic. I've always had this idea about going into business, even if I'm an engineer. I want to be able to create jobs, to be an employer, and I want to do something different."
"So, you have websites like Kijiji that are more vast," Jude says, explaining the thinking behind Salesblock. "As a student at Centennial College, you can sell your textbook or other school supplies on Kijiji, but it may take awhile for people to find that you're selling this particular thing. I wanted to take that particular niche and bring it closer, make it smaller. So, if you go on Salesblock.ca, and you're looking for a particular item, you know that this thing is being sold by students. So bringing that marketplace to Centennial College and making it small, that provides the opportunity for students to sell their stuff easily. You're sure that whoever's coming to that site, 90 percent of them are students."
How he made it
"The first step was getting my domain name," Jude says, something that was harder than you'd expect. "The second step was asking students if it was something that was viable."
He'd receive positive buzz from the students around him, who told him their own student-specific sales board was something they were looking for. "I asked a bunch of my classmates and colleagues, and I was getting the same feedback," he says. "That gave me the go-ahead."
One challenge that he faced as a student was a lack of resources. While he hired a developer to create the website, he didn't have the money to manage the site on an ongoing basis, so he got creative. "When the developer was done, I paid him, and took the website from him," he says. "The website was managed by me, because what I did was go and watch a ton of YouTube videos, and that got me up to speed."
"It took me awhile," he continues. "All through my break I was busy watching videos, making myself comfortable with HTML coding. The time spent on the website was difficult, because I had to work on my education while working on the website."
Since then, his efforts have been focused on getting word of the website out, and making sure it's secure.
By students, for students
"This is a student's idea," Jude says. "I'm still improving on it, but students are vital to this idea. Students are coming to this website on a daily basis, and there's a high chance of selling their product." It's an ongoing process, though, and one that requires the continued help of the Centennial community.
"This is something that students can actually use, that depends on students," He continues. "It was created by a fellow student so they can actually relate to it, critique the website, say something about it, say how it can be improved, and then post on the website. The students are vital to this website being something."
By Anthony Geremia