Akeem Raphael: A challenging road to musical success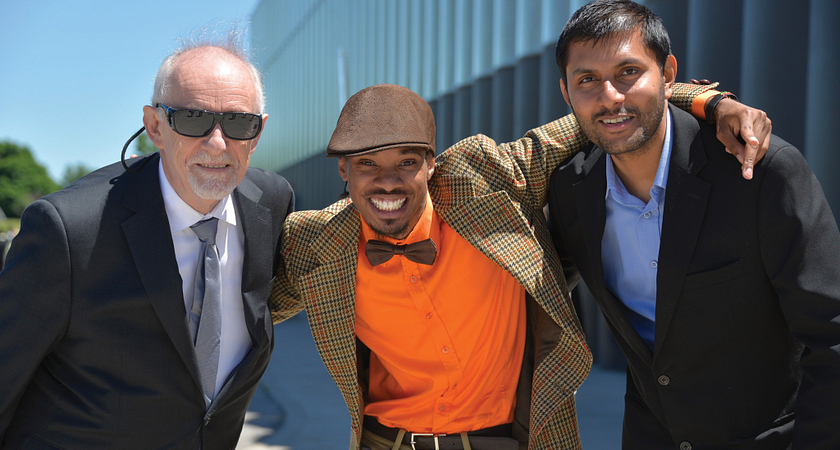 "A lot of people see me as energetic, enthusiastic, uplifting, not knowing I have a backstory to myself," says Akeem Raphael, a music graduate at Centennial College. "My story is important, and needs to come out. Through my experience at Centennial College, I've been building a lot more confidence in myself."
Akeem was one of the first students to take the school's new Music Industry Arts and Performance program, and has been active in the college community during his time here, acting as a student ambassador, and becoming a vice president in the CCSAI. He's looking to take his music career to the next level, and currently works with Spoke N' Heard, a collective of socially-minded artists.
But before that, it was a long road getting to the school. While we helped make him feel welcome, some of the strength to continue began inside him. Here's his story.
His history
"My mom passed away giving birth to me," Akeem says, "and my aunt came down from Trinidad to take care of myself. I have seven siblings altogether on my mom's side including myself, and I have another brother and sister on my dad's side."
"My dad wasn't really around," he admits. "I tried my best as a kid to build that relationship with him, and I said maybe I'm not around him enough. When I was ten years old, my aunt passed away, and my grandma passed away two months later, so I was going through all these experiences at a young age, and it was hard."
"I had to live with my dad, and I thought this was when I could build that relationship with him, but it wasn't happening," he continues. "After two or three years, my brother and him got into an argument. He wanted to move. When my brother was trying to leave, I said I wanted to be with my siblings, so I went to Toronto with him."
"Within a week, my brother said he's going back to Mississauga to finish school and graduate," he says. "I said, I'm going with you, but he said to me, sometimes, you have to make decisions on your own, you can't keep following me."
"I was living with my older sister, and the environment of the neighbourhood I was in wasn't good for me. I got affiliated with all these different activities," he finishes. "That was my lifestyle and eventually I said I can't keep living this life. If I want a future for me or for my future family, I've got to change."
Coming to Centennial
Akeem would first go to school for Culinary Training, and work in the industry for a time. He was convinced that he'd never go back to school, until he heard about the HYPE program.
"I found out about the HYPE program from my cousin," he says. "It was free, and I didn't want to turn down free education, so I took the initiative of going to a HYPE program, and after two weeks, I gave my job my two weeks notice."
With no job, or way to pay rent, he decided to take a chance. "I'm just going to have to do this by faith, because this is something important to me," he explains. "So I committed to the HYPE program, and graduated."
He'd find employment as a work-study student, and initially come to Centennial College for Entrepreneurship, before transferring to the school's brand-new music program.
"I'm one of the first people in Canada to earn credits for rapping," he says of the program, "and now I'm one of the first people to graduate from this program as well, and now I'm ready, and know what I want to do with my life and my career."
"I want to be a speaker," he says, "because when it comes to anything I'm doing, be it motivational speaking, or rapping or poetry, it's all speaking, so I just want to be a professional speaker, and master that area of life."
Helping out and giving back
During times of trouble, Akeem would consider withdrawing, but the support of the Centennial community kept him going.
"The support from staff and teachers blew my mind," he says. "They'll hold your hand, but they'll let go and allow you to walk. They'll never baby you. They only help you and guide you, and when I didn't believe in myself, they believed in me. They helped me through the first month or two. I just wanted to drop out, but the encouragement was so real and genuine that I wanted to keep going." He'd repay this by giving back to the Centennial community, taking part in a number of different initiatives.
"I started working as a work-study student," he says, "and I became an ambassador, and then I got involved, was one of the first people in LeaderShape, I was part of the CCSAI, I was campus director and then I became vice president for the Story Arts Centre, I went on GCELEs where I went to Jamaica and helped build two classrooms from scratch."
A few words
"I have a lot of love for Centennial, because the experience you get, the moments and feelings are priceless," he says. "With all that experience, it equipped me to see outside of the box, because before, being in my neighbourhood, that was it, that was life, I'd go to school, come home, and that was it. I'd never see outside my box, I'd never thought of travelling outside my country, or seeing different cultures and how different people did things. I was living, and this is what living felt like during those times."
"All the experience I've had and networks that I've created are going to be useful for me," he says, "because now I know what it means to be an artist and an entrepreneur because of the music program and Centennial College."
By Anthony Geremia