Piotr Mierzejewski stays ahead of the tech curve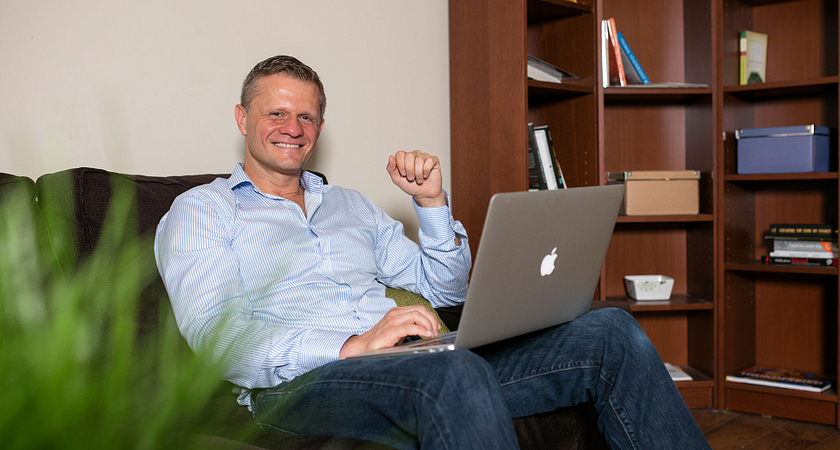 It's important in the tech world to stay ahead of development, and learn universal skills that can be applied to all technology as it changes and advances. At Centennial College, we give these skills to successful people like Piotr Mierzejewski. He graduated from the Computer Programmer Analyst Co-op program in 2010, and went on to a successful career at IBM Canada, where he now works as a senior manager. When he's not helping innovate, he's giving his knowledge back to the college as a teacher. Here's how we set him up for success.
Hands-on education
"Centennial is one of the most reliable colleges," Piotr says of his decision to join the program. But there were more important elements than that behind the decision, namely the co-op program that came with it.
"I did look for a place that had a co-op program," he continues, "because when you look around the industry, these positions are a means for the employers to actually have a year-long interview, sort of, to validate the quality of the student for future employment.
When asked what was most valuable to his career, he points to the social aspect of the program. "The ability to work in a team environment," he says, "the opportunity to lead a group of students on a project together from start to finish, and presenting the work at the end of the semester. A heavy emphasis on the practical aspect was actually very beneficial."
"You do practice with code," he continues, "you write applications, you practice with the database. Just to put it in perspective, there's no way at the current speed technology is developing for an institution to prepare you to be an expert in all of them. But if you get an expertise working hands-on with this technology, it gives you a head start, and you come in with skills that can be transferred and applied in the workplace immediately."
Getting into the career
"I was here at IBM for a 16-month co-op term," Piotr explains. Brought on in 2009, he worked with the company's Centre for Advanced Studies as a Prototype Developer during this placement, "and that transitioned into something called student-on-call, where I went back to college for my last semester while still working on a part-time basis. I received a full-time offer prior to leaving IBM."
IBM hired him on full-time as a DB2 SQL compiler developer, and then four years after, he'd be promoted to a sub-developer, then finally a manager. Five months ago, he became a senior manager, and he's been hard at work making the position count.
Giving back
"In IBM alone, I've hired four co-op students that were hired as full-timers, and this is just in the last year-and-a-half," Piotr says. When he isn't hiring at the company, he's teaching the next generation of programmers at Centennial College. Piotr also frequently volunteers as a speaker at Centennial events, including the E3 Symposium and the 2015 National Engineering Month event. He also volunteers his time to good causes, including the company's Take Our Kids to Work Program and the IBM Employee Charitable Fund for the Sick Kids Foundation.
"I've been active with Centennial from the moment of my graduation," he says, explaining how he came to be a teacher. "I never really separated myself from the college. I always hated the stigma that the college graduate is not up to par. My top five, six people from my graduating class were amazing, amazing developers, and companies like IBM need to tap into this resource, something I've advocated for very strongly."
That's why he joined the Program Advisory Committee, to help develop the curricula, and keep it current. From there, he naturally transitioned into teaching outright.
"Because I'm so passionate about this, why don't I come in and start teaching?" He said to himself. He's now become incredibly proud of the students he's worked with.
"One of the students in my class actually works for IBM as quality assurance," he says, proudly. "It was great for me to see that. I've seen a number of Centennial College grads working here as a co-op student, myself included."
By Anthony Geremia