How Jesse Kennely changed gears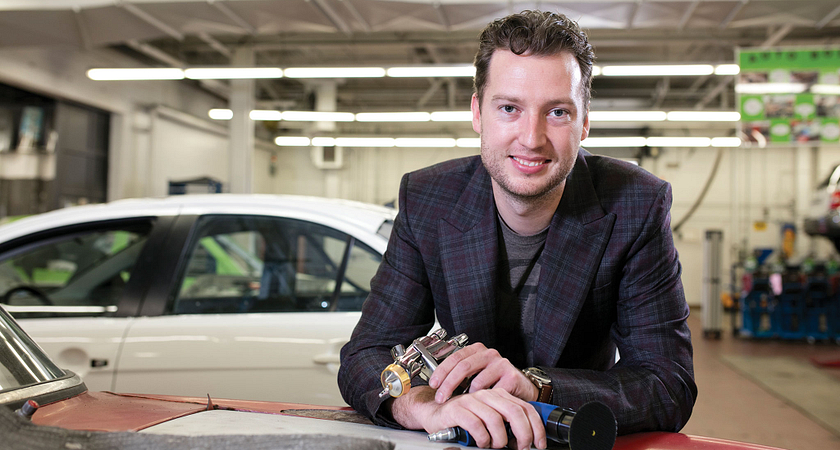 "I was young, I was 15, and I was really into remote control cars," says Jesse Kennely, explaining where his career began. That fascination would eventually extend to real cars. "I wanted to paint my own, and I wanted it to look neat," he continues, "so I got a co-op position at the local body shop, and I learned about painting, and that's been the only job I've ever had. I've always worked on cars."
Jesse is currently the Head Automotive Painter at Legendary Motorcar, one of Canada's top facilities for collector and specialty cars, while also dropping by the college to teach Auto Body level 1. Before that, he was an apprentice who came to Centennial College to study Auto Body and Collision Repair, and who'd go on to win skills competitions at the national level that would encourage him to change his plans into big dreams. Here's how we helped get him to where he is today.
Coming to Centennial
"I was an auto body collision repair apprentice, so as part of your apprenticeship, you go to a school for your training in a two-month block," he explains. He'd come to Centennial for the school component of auto body and Collision Repair Level 3. More importantly, while he was here, he discovered an ambition beyond his small-town dreams.
"I grew up in a small town of about 15,000 people," Jesse explains, "and my only goal was to work at the body shop and paint stuff, like cars, fridges, or whatever happened to come in the door. But after coming to Centennial, it opened my eyes to what else is out there. You don't just have to fix everyday cars. You can do more if you choose to. The professors there were great for that. They all helped me see what the possibilities were."
"They teach you to really think through your decisions- not to just rashly do something- and to think of the safety and consequences," he says of his education. "That really helps you in the profession, because instead of just acting, you're looking at the situation and just processing what the best thing to do is."
Winning it big
While a student at Centennial College, Jesse made the college proud by winning the Automotive Skills Competition both provincially and nationally.
"It was suggested by one of my professors that I should compete in it, because it would help me get a job," Jesse says. "They only give out so many medals a year, and if you have one, that's something you have over the competition. So I took one day off of work a week for two months, and came to the college, and they helped me practice some of the procedures we were doing during the competition. I won the Ontario competition at Waterloo, and I was part of Team Ontario."
Jesse would go on to win first place in Auto Body Repair at the 2009 National Skills Challenge in Prince Edward Island, where he was given a damaged car that needed to be repaired within two hours.
Building a Career
"For me, that was a big game-changer," Jesse says about his victories, "because it really showed me that I could be something more than some regular guy. I could be the best in Ontario and the best in Canada. I shouldn't just be aiming to paint refrigerators and Toyota corollas."
"When I came back from the competition, I decided that I'd try to find the best shop that I could work at, and I ended up at Legendary Motor Car in Milton, so I moved from my small town to Milton, didn't know anybody, but ended up working on multi-million dollar cars."
"Legendary Motor Car restores older muscle cars, like vintage Ferraris. They bring old cars back to life that people found in a barn. That's what I'm doing now," he explains.
"There's a lot of passion you put into your work when you're working on someone's car," he continues. "You want it to look great, but you want no one to know that it was damaged, and that it was never not perfect. And once it's finished, it's basically art, it's a part of someone's collection, and you know your work is going to look good 20 years from now."
Giving Back
As a result of what Centennial College helped him achieve, Jesse decided to give back by teaching at the college, helping apprentices like him learn the technical aspects of cars in his Auto Body Level 1 class.
"I feel like I owe a lot of my success to the college," he says, "because if they hadn't pointed me in this direction, I'd probably still be there in this small town, just working on average cars. But with their help and guidance, they gave me this opportunity to do what I do now. So I feel like I have knowledge now that an average person doesn't, so I feel like if I can pass it on to the next generation, that could be someone else's life that I'm changing."
By Anthony Geremia