Six strategies for success as a parent in school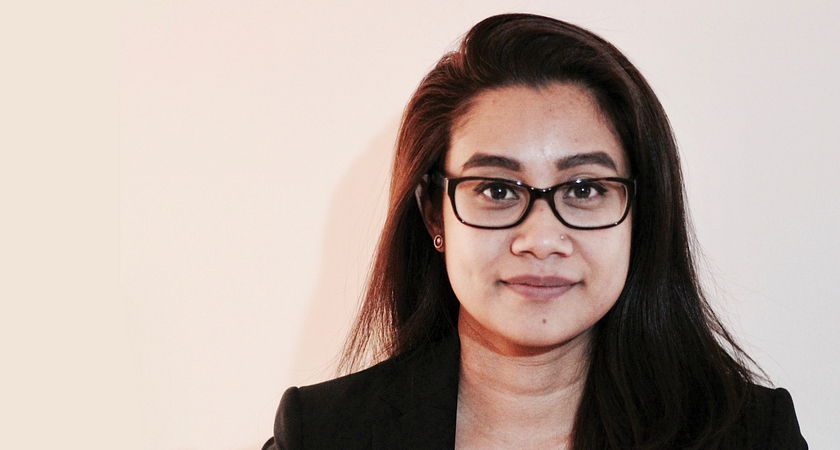 Krisanta Tambo has been a student at Centennial College since September of 2014, in our Business Administration - International Business Co-op program. She's also the proud parent of 10-year-old Jesse, and 7-year-old Desiree. She found the experience of juggling her responsibilities as a student and parent to be daunting, and often wished she'd been better informed going in.
"I kind of had to fish my way in the dark and figure it out on my own," she admits. "In my first year here, I met other moms who are studying full-time as well, and they all had similar if not extreme situations in comparison to myself. I always thought it would be great to have a group of moms get together, talk, and share tips and tricks on being a full-time student while balancing parenting. I know there are hundreds of moms studying here too."
That's why she's presenting at our Conversations for Social Change: Balancing School, Work and Life panel, a part of this week's Bell Let's Talk events, focused on mental health. Happening this Wednesday, January 25 at 12:30 in our Fireside Gallery, she'll be teaming up with fellow student and parent Lena Cromwell to share what she's learned about that balance, challenges, strategies and solutions. You can register for the panel by emailing Punita Lumb at plumb@centennialcollege.ca, but for now, here's a few of the tips she'll be sharing:
1. Do your research before classes begin
"There was a lot of paperwork," Krisanta says of signing up for college while still a parent. "I didn't know you needed a lawyer to sign something, I didn't even know they had lawyers on the campus coming here! A friend of mine on campus told me, who's also a mom." Another service she wasn't aware of: The college's daycare centre, which can care for your children while you go to class.
Krisanta also advises researching ways to get your textbooks, for the sake of saving money. "We don't need to spend 500 dollars on textbooks," she says. If you take the time to do the research on who's selling them on Kijiji, you can get them that way.There was a $159 dollar book that I got for 90 bucks off another Centennial students I found on Kijiji. Save that money to put groceries in the fridge."
2. Get your timetable done early
When you're a parent, it's particularly important that you get the timetable you need, so you can take care of your family. The best way to do this is to simply get it done early.
"Don't make your timetable last minute," Krisanta says, "because if you want 8:30 classes and you want to be home by 3pm, try to create your timetable as early as possible, and if you have to take night courses, take them." Another thing she recommends is checking the course descriptions.
"I'd research my courses before choosing them," she adds, "because I had a previous semester where I took Micro and Macroeconomics at the same time, and it was too much to handle, so I went to talk to another mom, who said, read the outlines, know what you're getting into, prepare yourself, get your paper work in on time, including OSAP deadlines and timetables."
3. Use your support network
"Support is very important," Krisanta says. "I'm lucky enough to have my family support me, so I can come to class for 8:30 in the morning, and come home as late as 4:30, knowing that I have family that's going to take my kids to school and pick them up."
Even if you don't come to college with a support network, you can make one with the students around you, something Krisanta wishes she'd done earlier.
"I didn't know anything when I first started," she explains. "It would have been nice if I could have connected with somebody from the college before I started studying just to get an idea of what I need to go through to have my bases covered."
4. Stay organized
"I've had a lot of friends that have struggled to balance school and family, and they had to choose one or the other because one wasn't working for them," Krisanta says. "But if you get everything on a chart, and you have times, and you organize your time well, it's something that can work. You just have to put the time into it."
Everyone organizes themselves differently. Krisanta uses her computer. "I have an Excel workbook, and I have a tab for each course," she explains. "They have the outlines, the times, how everything is graded and what's graded."
5. Self-care is essential
As school progressed, Krisanta found counselling useful, for the sake of her own wellbeing.
"There are times where I had too many deadlines, and too much homework, and I found things so frustrating," she says. "I recently started using counselling, going to see them on a regular basis, because what I learned is that your mental health is something that you have to take care of as well, and I didn't know that when I first started here. Your job is hard, so taking care of your mental health is important as well."
6. Explain things to your children.
"For mothers that do have children, it's always important to spend time with kids and explain to them," Krisanta says. "My kids didn't understand why I wasn't home to see them or pick them up from school any more, so I had to constantly explain to them that I'm doing this. Just reminding your kids that mom's doing this for herself and for you to give you a better life. Some of my friend's kids don't fully understand, so I'll tell them, too."
Krisanta wants to be a source of advice in the future for mothers going to school, and even told the event's organizer to forward questions from other students who are parents to her. In the meantime, you can catch her Conversations for Social Change event, and hear more parental advice firsthand.
By Anthony Geremia