How Sam Casais started a career doing what he loves in Recreation and Leisure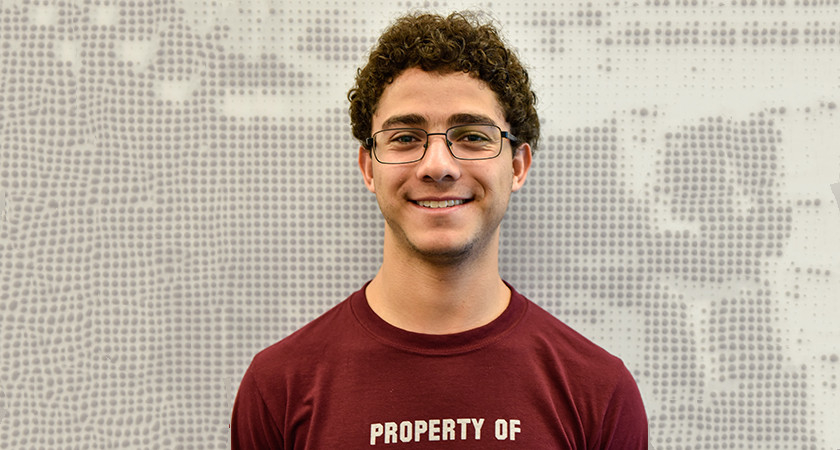 Nothing brings people and communities together like play, and Centennial College's Recreation and Leisure Services focuses on using sports and other activities for social good, making communities healthy and happy. In other words, improving the quality of life through recreation. Centennial's program has a strong emphasis on real-life experience and fieldwork, creating graduates with real, practical skills. Rec and Leisure is also one of Centennial College's longest-running programs, and in its almost 50 years of continuous operation, it's managed to connect tons of students to a rewarding career, literally working with play. Rec and Leisure student Samuel Casais is one such example. He entered the program to do what he loves and has gone on to find success, experience and a job, all before the program ends. Here's why he loves Rec and Leisure, and what the program's done for him.
Doing what he loves
"Before finishing high school, I had no idea what I wanted to study," Sam admits, "but I had been a camp counsellor for the past two years, and I loved it. I loved working with kids, I loved outdoor activities and recreational activities." He began searching for a career, and that search took him to Centennial College's Recreation and Leisure program.
"What I like from Centennial is that it has over 800 hours of field placement," he says, "compared to the others, that have 400, 500 or less." He was also impressed by the program's many awards   
"Parks and Recreation Ontario had two yearly awards for recreation and leisure students," he says, "and for the past eleven years, Centennial College has been winning one or both of the awards."
Halfway there
Sam finished his first year of the Recreation and Leisure program in April and is looking forward to starting the second year in September.
"So far we've had classes that have been interesting to me, especially the effective leadership skills class," he says. "I'm really into leadership, and that class has taught me several skills, several theoretical leadership styles, and stuff I can start applying and practicing."
But the thing about the program that he's found most valuable is the practical experience, where he learns and works outside of the classroom.
"Personally, I'm a kinaesthetic learner," Sam explains. "If I get hands-on with something, I really learn it. That's a very important part of our learning, it's not just on placement."
"We also take a class entitled inclusive recreation," he says as an example, "which we held at the Variety Village centre, so that's really enriching. We learned how to adapt programs, and how to have inclusive spaces for people with disabilities." He gained even more experience when the program took him outside of the classroom and into the field.
"Last semester, we had two days a week of field placement," he says. "I went to Crescent Town community centre, and there had the opportunity to assist with event planning, plan my own event [a salsa class], do a needs assessment, evaluate programs, and just start to get all these skills I will need for future jobs. It helped me learn what the real world would look like after graduation." He's currently getting an even closer look at the working world thanks to the program granting him a job at the college.
On the job
"I'm the Athletics representative with the CCSAI," Sam explains. "I started in May, and it's a year contract, going to April 2018. It's one of the board of director positions with the Student Association."
As to how he got the position?"When I came here, I started getting involved little by little," he explains, "then I started liking it a lot, and I started getting involved more and more. I started being an international student ambassador in the winter semester, and then I went to Leadershape, I went to a GCELE in Kenya, and the CCSAI has been something big for me."
After that, he simply saw an opening and applied.
"I get to work with my Athletics and Recreation department," he says, explaining his role, and what he gets out of it. "I get to program activities, I get to do surveys and needs assessments, I get to evaluate programs, and I get that hands-on experience that is related to my program, as well as getting into a workforce, networking, creating bonds between organizations."
Looking to the future
"Next year, I'm going to have placement for the full year with my program coordinator," Sam says. "I'm going to be the student leader for the recreation and leisure services program, a three-day-per-week placement, so what I'm looking forward to most next year isn't just one aspect of the program or the work, but being able to combine my placement and my work at the CCSAI."
As for when school ends, he wants to have a job that has him travel. "I was looking into options for organizations that have camp opportunities abroad," he says,  "and opportunities in the eco-tourism centre. What I would like to do is travel to different countries and do different recreational jobs all around the globe, but for starters, I think getting experience in a full-time job in Canada for at least a year will help me learn more and make those connections."
For any students looking to follow his path into Recreation and Leisure, he insists that volunteering outside of class is what made his success possible.
"The #1 advice I will always give is to get involved in your program, athletics, clubs, the CCSAI, college volunteering, anything you can get your hands on," he says. "I started seeing all of the benefits, all the outcomes, all the learning and all the growth outside of my comfort zone, and I think that's what's allowed me to grow the most here at Centennial. If it's getting out of your comfort zone, you're going to grow. Learning doesn't always take place in the classroom."
By Anthony Geremia